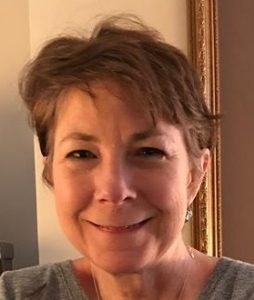 My name is Minnie Lamberth. I am a copywriter, content marketer, author, creativity coach, and sometimes a painter and artist. I also have a cat.
A native of Alexander City, Alabama, I received my B.A. in English from Huntingdon College in Montgomery. After graduation, I entered the professional creative world when I was hired as a copywriter at a local advertising agency. From there, I moved for a time into state government, when I became the public information officer for the Alabama Commission on Higher Education. I later returned to Huntingdon to serve part-time as public relations director. That's also when I wrote most of the manuscript that became the award-winning novel Life with Strings Attached (Paraclete Press).
I've been a full-time independent copywriter since 2000. I work remotely for a small group of clients, and I write for all types of media, including websites, videos, ads, billboards, member magazines, book projects, social media and more. Through the years, I have also dabbled in oil painting, such as when I did a series of mini-portraits of children that I called my Lambscapes, and I developed mixed media pieces using debris I picked up on my morning walks. 
More recently, I launched a creative encouragement program that helps you remember who you were created to be, reconnect with your gifts and callings, pursue your creative purpose and make a difference in the world one small step at a time. Expressions of Christian faith are interwoven in this mini-course series. I've also released a follow-up to Life with Strings Attached in the novella, Miss Bertie Explains the Beginning of the World.
Honors received during the course of my career include the Paraclete Fiction Award for a novel; the Huntingdon College Alumni Achievement Award, and Practitioner of the Year for the Public Relations Council of Alabama's Montgomery Chapter. I also won a free haircut when I called a radio morning program and gave the correct answer to a trivia quiz.
If you'd like to know what my voice sounds like, here's a video I created for children in a preschool Sunday school class, as we were separated during the COVID-19 quarantine:
Questions? Email me at [email protected].