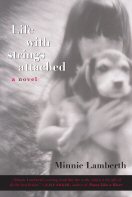 Life with Strings Attached is available as an ebook at Amazon and Barnes and Noble. Search for it on iBooks. Or request a signed hardback copy by emailing [email protected]
Winner of the Paraclete Fiction Award
Life with Strings Attached, a novel by Minnie Lamberth, was released in February 2005 after winning the inaugural Paraclete Fiction Award, a contest conducted by Paraclete Press seeking a literary novel with Christian themes.
What happens when the world we know is too small for our dreams?
Meet seven-year-old Hannah Hayes, who lives on Evergreen Drive in Wellton, Alabama. It's the spring of 1972, and in the world at large, the Equal Rights Amendment is making its way through the states, the Vietnam War continues, and the Olympics are about to be held in Munich. But Hannah's concern for the world beyond her border pales in comparison to matters more urgent for a seven-year-old—protecting her beagle Pumpkin from Ralph, a neighbor's free-spirited dog, and pursuing her dream to become a preacher. Problem is, Wellton has never had a girl preacher before, and folks don't seem too warm to the idea.
Richly detailed characters, well-crafted dialogue, and the simplicity and innocence of a child's perspective combine in this memorable novel full of spiritual sensitivities that result in a story at once charming, innocent and joyful.
What Others Said: 
"I enjoyed the daylights out of this book. Minnie Lamberth's writing reads like the truth, which is the gift of all the best fiction."–Leif Enger, author of the best-selling Peace Like a River
"Anyone who recalls bug jars, riding the back of a grocery cart, and their first love affair with a four-footed friend will delight in Life with Strings Attached. Beautifully written, the novel is a read- and laugh-aloud treasure. Highly recommended."–Lynn Waalkes in a review in CBA Marketplace
"Readers will delight in the strong writing and Southern charm of this story, which won Paraclete Press's inaugural faith fiction award for a debut novel. Seven-year-old Hannah Hayes and her beagle, Pumpkin, are as comfortable in their Wellton, Ala., neighborhood in 1972 as in their own skins. Whether she's passing the offering plate to raise money for a 'doggie revival' among the neighborhood hounds or befriending an outcast on the school playground, Hannah knows she is called by the Lord, and "'The work laid out for me couldn't be done by another.'"–Publishers Weekly
"Lamberth's writing keeps step with the sleepy rhythms of childhood — reminding readers what it feels like to walk under a garden sprinkler, compassionately care about a pet, dream freely, and trust in the comforting presence of parents and neighbors. Subtle threads of humor, grace, and redemption run throughout. A treat." —Christian Book Distributors
"It is not surprising that author Minnie Lamberth won Paraclete's fiction award for a literary novel that reflects 'the diversity and depths of what it means to be a Christian.' She does an outstanding job of capturing Hannah and her family with sensitivity and humor."–Patricia Small in a review for Church and Synagogue LIBRARIES