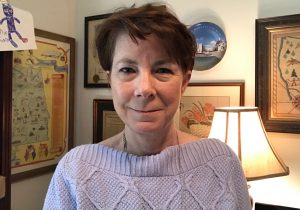 Your business needs words to describe your products or services. To connect with your customers and members. To establish your authority. To sell to your prospects. To tell your story.
I write words for businesses like yours.
Let's say there are a billion words in the world. Nobody running a business has time to figure out which words out of a billion are going to work best for your project. But I do. I've got plenty of time to help you figure that out, and it's my absolute favorite thing to do.
My name is Minnie Lamberth, and I am a copywriter in Montgomery, Alabama. I specialize in writing copy for business and professional audiences, and here are some of the ways I can be helpful to you:
Dedicated Deliveries – Send me your instructions, and I'll take care of the writing. For example, I work with a client who sends me monthly and quarterly newsletter projects, and I write the content based on word count and topic direction. If blog or article deadlines are interfering with your other responsibilities, here's how to stay on track: tell me what you need and let me write the pieces for you.
Project Shepherd – Sometimes clients don't give me word count or topics, but the big idea, and they want someone to shepherd their idea into the right format and deliverable. For example, I recently worked with a client who needed help writing a career coaching book. He told me his story, and I began to put the essentials into a Word document. He edited and added, I fine-tuned, and we went back and forth until the project was complete. So, do you want to keep mulling over your big idea, or would you like to get it done? (If your answer is "get it done," get in touch.)
Quick-Change Artist – I've worked with clients for years and years who have come to rely on me for my fast response time. Let's say they've got an ad or new web page in the works, and they need a quick edit. I'll take care of that for them because: 1) I like to be helpful; and 2) that's what they need. You can keep going it alone if you prefer. But if you'd like reliable backup for your marketing projects, I'm here.
Safety Check – My clients also need a second set of eyes on their pieces (letters, ads, emails, website content, etc.). It's easy to leave out a word, exhibit a lack of sensitivity,  make a typo in your boss's mother's name, or miss some other embarrassing error that spellcheck doesn't catch. So here's an idea: run things by me before you press send, post or print.
Always On Call (But Not On the Clock)
Only a few businesses need to hire a staff writer. Most just need copy for a specific project. Or on occasion. That's the beauty of this setup. I'm here when you need me. Yet you never have to pay me when you don't. And even if you call on me all year long, my project-based writing services would probably total around 10-15% of the cost of hiring a full-time writer.
So, yeah, I'm a pretty sweet deal. Yet you still get fast turnaround, because that's why I'm here. I like to work. I like to hear from people who say, "Would you help me with this?" If you send me an email, I'm going to be happy to see it.  So…
Let's get started.
Let's start by scheduling a free, no-obligation, 20-minute conversation to discuss your project and how I can help you move it to completion. Email me at [email protected], and we'll pick a convenient day and time for a call.
"The articles you did for our newsletters are so good, I  thought I wrote them! (Kidding; they're far better.) Just wanted to say thanks again for your excellent quality and attention to detail. We  quite literally couldn't do it without you." – Adams Hudson, Hudson Ink
"Working with Minnie is an absolute delight. Whether we need  creative headlines for an ad or more technical copy, she always delivers more than we knew we needed right on time. Minnie is an invaluable member of our creative team." – Cate Schilloff, Mindvolt
"I had the privilege of working with Minnie as the author of our book, Alabama: Moving Forward.  She was a true professional who consistently met every deadline without any prompting or reminding from me. We never had to worry about when her copy would arrive as we knew it would arrive comfortably before deadline. That is a great comfort for any publisher or project manager."  – Ron Beers, President & Publisher, Beers & Associates

"Whether copywriting, proofreading or just reacting to an  idea, I think of Minnie as someone who's 'got my back.' I appreciate her  wise counsel as well as strong writing skills." – Slats Slaton, The  Slaton Agency