By Minnie Lamberth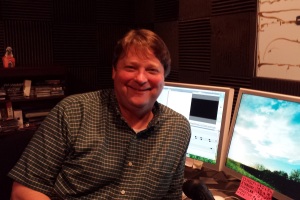 The videos shared this fall during stewardship season at First Baptist Church Montgomery were filmed, produced and edited by Doug Rogers, a church volunteer whose professional background is in video production.
Doug said this type of volunteer service is his "opportunity to produce videos to help tell the stories of what the Lord is doing at First Baptist. This is a way I can take an area – an ability the Lord has given me – to give back to the church by using these video tools to tell stories."
Doug is an ordained minister, state missionary and director of Communications and Technology Services for the Alabama Baptist State Board of Missions. He and his wife Lori, along with their three children, joined First Baptist in 2009 after Doug served for nine years in an interim music ministry position at Hayneville Baptist Church. Yes, nine years as interim. That's probably not unusual for Baptist life in small southern communities, but I'll leave that research to someone else.
Doug and Lori are members of the sanctuary choir and are team teachers in the Tripp Henley young singles class. They also lead a "Return to Mayberry" discipleship course class based on the black-and-white episodes of The Andy Griffith Show. I just completed my second term and seem to be passing with flying colors – if that's possible, seeing as no color episodes are used. It goes against class standards, primarily because Barney's gone by then.
"The neat thing about Mayberry, it brings everybody together in a fun environment to look at Biblical truths," Doug said. "Also, every week is a standalone week. It's a good opportunity for people who can't commit to every week. They can just come and go as they want."
Doug and Lori are now in their fifth year of leading the study during the fall and spring discipleship series. Lori prepares and provides the snacks, which are many times thematically tied to the episode. Doug leads the sessions, which are often tied to what's happening in the church.
Most recently, the church's stewardship season was a good occasion to bring out the episode where Barney bought his first car from an elderly lady who had supposedly only driven to church on Sundays. The impulsive deputy could have surely used a bit of due diligence – buying that car as he did without even a test drive, and handing his $300 in lifesavings over to the Ellen Corby character because she said her late husband's name was Bernard. But Barney did get kudos for having a savings program.
The Mayberry studies have been around for years, but Doug said First Baptist was the first church he'd been a member of that offered them. When he sat in his first sessions, which were being led by Chuck Ashley at the time, Doug said, "Chuck realized early on that 'all things Mayberry' was a passion of mine." Doug was asked to lead.
Initially, he built the sessions around prepared outlines. "Then as we got into years two and three and on, I started developing outlines. I now have lesson plans for as many as 80 episodes."
One of the outcomes of leading these studies is the opportunity to meet a cross-section of church members. "There are families and people I've met that I wouldn't have gotten to meet otherwise," he said.
The Mayberry study, in fact, is how he met the Hartles, who became the subject of one of the recent stewardship videos. As this military family describes their experiences at First Baptist, there is a very moving scene within the video when Jim Hartle is reunited with his family after a six-month deployment. It's very worth a five-minute break. Click the link to see: