By Minnie Lamberth
I'm sure I'm not the first to notice that Jesus came to earth as a baby, then said others should come to Him as a little child.
"But Jesus called the children to him and said, 'Let the little children come to me, and do not hinder them, for the kingdom of God belongs to such as these. Truly I tell you, anyone who will not receive the kingdom of God like a little child will never enter it.'" Luke 18:16-17 (NIV)
I'm sure as well that there are many preachers and writers who can tell you what it means to enter the kingdom like a little child. I was thinking instead of another point: why people should come to church as little children, and how what they learn there can come back to them at a time when it's most needed.
Actually, Sharon McGee is the one who made this point best. I heard her tell the story during a goodbye party for Sarah and Jack Lee as they concluded 60 years of service in the sanctuary choir.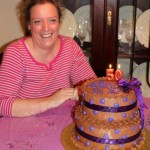 Sarah had led the children's choir program at First Baptist for about 30 years. Sharon, who this year gratefully turned 50 years old, spent a dark period in her life clinging to the message of a song Sarah taught her as a child.
In the Spring of 2011, Sharon was diagnosed with Stage IV Adenocarcinoma of the appendix, following the discovery of multiple small tumors throughout her abdomen. "When I was first diagnosed, they didn't give us much hope," Sharon said. "The fact that I'm here is a miracle."
That period was especially difficult. "After hearing the diagnosis, I was overwhelmed. I couldn't find words to pray," Sharon said. But then a familiar refrain came back to her. "One night, in my head, I started singing, 'The joy of the Lord is my strength.'"
These words and this melody were from a song she'd learned in children's choir. "I loved the song back then," she said. "It's just something that stayed in my heart and soul and came back." Now, some 40 years later, this song was running through her mind over and over. "That was my prayer for months."  
She recalls that on the first of what would become many chemotherapy treatments, a friend came to the Montgomery Cancer Center. "On that first day, Lisa Powell showed up, and she gave me a gift," Sharon said. But she didn't open the gift for several weeks. "I didn't want to have a gift because I didn't want to be sick," she said.
When she did open the gift, however, guess what it was? A plaque with words from Nehemiah 8: "The joy of the Lord is my strength."
Sharon said it was like the Lord said, "I've heard you."
The start of her treatment also revealed another need that Sharon would work to meet. "On my first day of chemotherapy, I was there for five hours. The thought of bringing something to eat didn't occur to us." She was there with her parents and a brother when a family friend stopped in. The friend told her the cancer center had snacks for patients and asked a volunteer there for help.
"Well, we're out," the volunteer said. "All we have is some crackers, and they're stale now."
That's when Sharon learned that volunteers usually bring snacks to the cancer center for the patients. The snacks were donated. She and her brother Gary looked at each other and said, "We can do something about this."
So they started what would be known as Sharon's Snack Ministry. Because Sharon had worked for years in the preschool ministry, she talked to Sheila Hinds, who named the ministry and set up a box and started receiving snack donations for cancer patients. "They've never run out since we started," Sharon said.
"Some people can't afford to go and buy anything from the snack machine," she added. "It helps because people are over there for hours."
Sharon's treatment for this type of colon cancer has been grueling. She recently completed her 56th round of chemotherapy, which has been conducted at two- to three-week intervals over 2 ½ years. She has been hospitalized three times for stomach and intestinal issues.
Her work as a counselor in private practice has required adjustments, but she continues helping others. "I've reduced my hours, but I'm still able to work every day," she said.
"I firmly believe that I am here because of prayer – because, really, I'm
not supposed to be here. Overall, I'm doing really well." In fact, the numbers that her doctors want to drop are dropping. "I feel overall pretty good."
Sharon's family includes her parents, Mac and Levonne McGee, two brothers, plus nieces, nephews and close cousins. "My parents have been extremely supportive. My two brothers have been extremely protective." She added, "The church family has just been amazing. I don't know how people who don't have a faith or a church home go through something like this."
Indeed. Small things have a way of becoming big things, as you look back. Small things like snacks for a hungry cancer patient. A card in the mail. A prayer. A meal. Or a simple song learned as a small child.