By Minnie Lamberth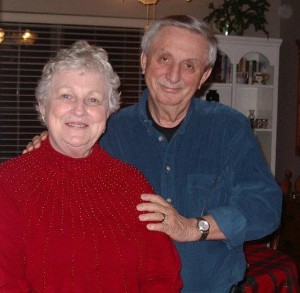 Richard Alford has been a member of First Baptist Church Montgomery since 1991, when he moved to the capital city to begin working with the Alabama State Board of Missions as a coordinator of programs that involved language church start-ups, literacy missions and community ministries. He had come here from Mississippi, where he had worked in the same areas through a partnership with the North American Mission Board (as it is currently named).
Richard, now 76 years old, had been called into the ministry as a high school student in Louisiana. After attending college and then moving onto New Orleans Baptist Theological Seminary, he held positions as pastor and minister of education at churches in South Alabama. "In 1978, God sharpened my calling into missions," Richard said. "My wife and I began serving with the Home Mission Board at that time."
His responsibilities in Mississippi and Alabama involved literacy missions, which included adult reading and writing programs for the functionally illiterate, tutoring programs for at-risk children, and English as a Second Language Programs for people from other nations. He was still two years from retirement when life took a tragic turn. Richard and his wife Pat were driving to a memorial service in 2005 and were just north of Mobile when they were involved in a head-on collision that took Pat's life.
"The heart is still tender, but God has supplied another person," Richard said. In August 2008, he married Sarah Trussell, widow of  Warren Trussell, who had served as head of the Alabama Baptist Foundation.
Richard retired in 2007 but continues to serve as an active volunteer. "Retirement is not the end of ministry," he said. "It's just a change of direction."
He added, "I love working cross culturally. I'm an active member of the international Sunday School department at First Baptist." He has directed the department and taught classes.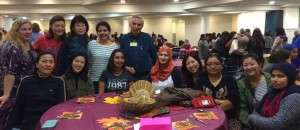 In addition, on Thursday mornings, Richard and Sarah are volunteers with Conversational English, which is an English as a Second Language program held at First Baptist during the school year. CE has 72 volunteers representing 25 churches in the area. This year, the program had more than 350 students from 52 countries, and with them came 52 preschoolers. Many of the students are wives of international officers from Maxwell Air Force Base. The church van provides transportation, and childcare is provided for the preschoolers.
CE has six levels of English, and Richard teaches level five. "I get students who can speak English, but they are improving it." Though they know enough English to speak pretty well, he said, "You can hear them grappling with vocabulary or idioms." At this level, he works with them on writing in English.
Clearly, he loves the ministry. He said, "The day comes and I can't drive, somebody else is going to drive me up there."
The CE program is now on summer break, but the church will host Terrific Tuesdays for four Tuesday mornings in July for the new military families from many countries that are arriving at Maxwell in June.
"We're reaching people in countries where we cannot place missionaries," Richard said. "We give them Bibles in their language." The program also provides children's picture Bibles for the kids in childcare.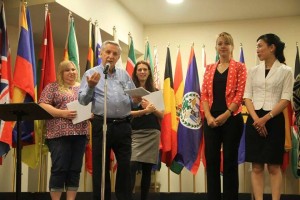 Among his other activities, Richard also travels to Central Asia two to four times a year with teams that are working with the Zaza people group. He said sometimes these trips involve medical teams providing dental work. The areas he's visited are two hours from a larger city that has medical care.
Team members also provide home health training. "We go into homes, and they teach the ladies basic home health – things we take for granted over here," he said.
The worker teams also conduct ethnographic research. "We go in, and we tell people we're cultural tourists." They'll ask about the languages, situations in the town. "We gather information," Richard said. "We're also looking for persons of peace that we can reach out to for future trips."
It's for activities like these that, last November, Richard and Sarah were named by the Montgomery Baptist Association as Volunteers of the Year in 2014.  And his volunteerism isn't slowing down. Richard is headed to Central Asia again in July – this time to serve in a refugee camp.
"I thank the Lord every day for good health," Richard said. "I'm 76, and I thank the Lord that I can do what I can do."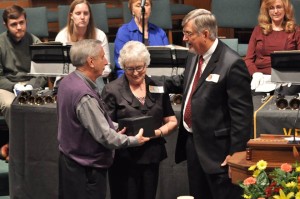 _________
This story is part of the continuing series by Minnie Lamberth called "People I Met at Church."