By Minnie Lamberth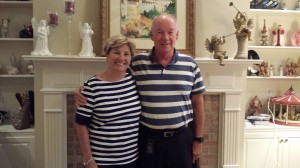 Jesus tells parables in scripture along the idea that you go off looking for what you once had. If you had ten silver coins, but lost one, you'd sweep and search until you found it. If you had 100 sheep, and one went missing, you'd go looking until you got it back.
I was thinking about those parables in terms of a couple of friends of mine. I used to know Mique and Rudy at church, but they went off to another location, and we lost touch. It was kind of like having this thought, "Where did I put those people? I know they were around here somewhere. I loved them. They were so much fun to know. I'm going to see if I can find them again."
That's when I decided to write this story about people I used to know at church. I headed out to Pike Road, where Mique and Rudy have lived for the last seven years, and here's what I learned.
At some point in 1960, Mique Morgan moved to Montgomery from Jay, Florida, to attend Massey Draughon Business College. She was living with a roommate near Clayton Street Baptist Church, and that's how she met her future husband Rudy. Sort of.
"I was walking to church," she said. "He tried to pick me up."
"We tried to give them a ride," Rudy clarified. He had a buddy with him when they saw the two church girls headed off to services; they offered a ride. The girls said no.
"We told them we had to meet at church and have someone introduce us," Mique said.
"I'd see her walking from Massey Draughon. She could be in the pouring rain, and she still wouldn't get in the car with me," Rudy added.
One day, however, Rudy and Mique did meet at church and, with proper introduction, they dated and married in 1962.
Mique, by the way, is a name that sounds like Mickey. I met Mique probably around 1989 when I began attending First Baptist and joined the sanctuary choir. Norma Harris had invited her. "I sang alto because she did," Mique said. "I liked to sing, and it seemed like the thing to do – sing with Norma."
The camaraderie in that section was fun, she said. "It was not a big city church choir that you think of First Baptist having. It was just fun."
I was in the alto section too, and sometimes I got to sit next to Mique. But only on her right. Shirley Gourlay sat on her left. Later, Mique's daughter Kellie joined the choir, and I moved to Kellie's right because (with that mother-daughter thing) Kellie was obviously sitting on Mique's right. So, with Kellie now on my left, that's how we became friends.
I asked Rudy what kinds of things he had done when his family was at First Baptist.
He said, "I was ordained a deacon there."
Mique said, "You were not ordained at First Baptist. You were ordained at Clayton Street."
"It was Clayton Street?" Rudy asked. Now he remembered and knew it was 1965.
"How'd you remember that?" Mique asked.
"I've got my deacon ordination certificate in there," he explained, pointing to a back room.
Kellie, Mique and I sometimes celebrated birthdays together. Once, for my birthday, they invited me and some of my friends over to Kellie's apartment on College Street. For one of Kellie's birthdays, I had a dinner and invited some friends, including Stanton Kelley, a cute-as-a-button young man from the choir that Kellie would later marry and for whom she would become Kellie Kelley.
As Kellie and I became closer, I became friends with the Morgan family, including her sisters and Rudy. Kellie had told me that, growing up, all of her friends were scared of her dad, but for some reason, I was never scared of Rudy. And I'm scared of roughly half the people I meet. Even so, I grew to love that family.
Sometimes after church I'd eat lunch with them at the State Market Café at Coliseum and Federal. When Rudy and Mique built and moved to a lovely home on the lake, sometimes I visited them there.
Then one day, I lost touch. I didn't see them anymore. Rudy and Mique moved their membership to Heritage Baptist, where two of their daughters and most of their grandchildren attended. Then Kellie and Stanton moved to Birmingham. Heritage, incidentally, is what Clayton Street became when the church changed locations.
Kellie is their older daughter, Rudonna was second, then Tobie. When Rudonna needed her parents' help in Montgomery, following a diagnosis of Multiple Sclerosis, they moved back to town to help her and her daughters. Sadly, Rudonna passed away in October 2011.
Things I Didn't Know
During my visit, I found out many things about Rudy's life and career. For starters, he has spent all of his life in Montgomery, except for the first few months when he lived in Tuscaloosa. He said his family moved to the projects in West End when he was nine months old.
His father Julian, a native of Georgia, had served in World War I. Rudy's mother Ruth was from New York and had gotten his father's name and address during some kind of "write to a soldier" effort. She wrote to the soldier, they kept up the correspondence, and when her soldier got out of the service, he went to New York and picked up his new wife (meaning, he gave her a ride as a new bride, first, to South Carolina and later to Tuscaloosa).
Rudy was the youngest of three children. His brother was 16 years older; his sister was 14 years older. His father was a guard for the VA hospital in Tuscaloosa, then got a job as a guard at the VA hospital in Montgomery. "That's how we ended up living in the projects," Rudy said. He said his father had an eighth grade education and never made more than $3,000 a year.
"When I was 11, we moved to Mildred Street about a block or so away from Clayton Street," he said. Next, he moved to Robinson Street about a block and a half from Clayton Street. Rudy joined Clayton Street Baptist, same as his mother. His father, a Methodist, was a member of another church.
After Rudy graduated from Lanier, he attended Huntingdon College for a couple of years. "Then Mique and I met," he said. "She worked for the military at the time. We got married in '61, she sent me to basic training in '62."
Mique interrupted here to say, "We got married in '62. I sent you to basic training in '63."
As Mique explained, she was working for the state military department, and she typed up Rudy's Guard orders. He was in for 28 years, eventually retiring as a full colonel in the Guard. At the same time, he began a printing production career by happenstance.
"While I was going to Huntingdon, there was an ad on the bulletin board for Paragon Press. They needed someone who could add large columns of numbers." As a math major that was something he could do, and he would eventually become manufacturing manager for the company that would become Herff Jones.
"I was working 80 hours a week during yearbook season. It was about that time we started having children, and I never saw them," he said. He heard about a job at Maxwell, and he moved on to become the Assistant Production Manager for the Air University Review. "We printed six English editions, four Portuguese editions and four Spanish editions. I laid the magazines out." He also completed his degree through night school at Troy.
In 1980, Rudy took on the position managing the field printing plant at Gunter – which was the largest printing plant in the Air Force at that time. In 1984, they consolidated all the printing plants under the Defense printing system, and he became the manager of 26 printing plants in the Southeast.
I asked Mique about her life too. She was born in Jay, attended Massey Draughon and worked for the state in the military department for two years until she had Kellie. Later, when she went back to work full-time, she became a secretary in the office at Jeff Davis High School. After ten years, she went to Maxwell to work for the Department of Defense.
These days she works 20 hours a week at MOM (Medical Outreach Mission), and both she and Rudy volunteer at Baptist East.
As we closed our interview, I asked their age.
"How old am I, Rudy?" Mique asked.
"71."
"71?" she repeated.
He reconsidered. "I think you might be 72," he said.
"Oh, I'm 72," Mique said. "I lied about my age so long when I was about 59 that when I finally got up to what year I decided it wasn't worth lying about, I was two years younger than I thought I was."
Rudy said he would be 74 this year.
"November 22, right?" I asked.
"How'd you remember that?" Mique asked.
"Kennedy," I said.
"You have a good memory." What can I say? Some people are memorable. Like lost coins and missing sheep, they're the kind of people you'd want to go looking for until you found them again.