By Minnie Lamberth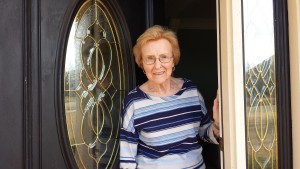 Mary Ann Hannah started dating her husband of 63+ years when they were students at what was then Howard College. She was a freshman from Huntsville, he was a junior from the Springville/Birmingham area. She had actually seen him once before when he had come to a youth revival at her home church, and they had spoken on campus earlier, but this particular night was their first date.
In the second or third week of classes, Mary Ann was in the library studying at a table with girls when Gene came to that table. He told them, "My roommate just called me. He's at a movie, and he needs me to get a date and meet him there. I don't care which one goes."
"One by one, everyone begged off," Mary Ann said. "I was the last so I went."
When they got downtown, she said, "There was no roommate. We went to the movie anyway." And that's how they began dating. They married on September 1, 1951.
When Gene received his degree in theology from Howard, the young couple moved to Louisville for him to attend Southern Baptist Theological Seminary. Mary Ann would finish her degree later, for as she said, "If a girl went to college, generally she was going to find someone to marry, not get a degree."
Her life as a minister's wife seemed a good fit. "I had felt some calling. I didn't know what. That's why I went to Howard, thinking maybe it will clear up."
Mary Ann was young, of course, and this was a different time. "I was 17. There was not the emphasis there is now on life choices." She said that she did all the things that were right to do, such as going to church, participating in youth programs. "I made it through Queen in GAs and all the stuff you're supposed to do, but there was not an emphasis on helping you make decisions like there is now. Then I met Gene, and he was going to be a preacher, and I thought, 'That qualifies.'"
After seminary, Gene and Mary Ann and their growing family (they would have four sons) moved to Leeds, Alabama, where Gene became a "minister of education and music and youth and everything the preacher wasn't." After four or five years, Mary Ann said, "They called him to be the pastor."
The Hannah family had one particular time where they were exploring the mission field. Mary Ann said, "This thing in me came out again."
Gene had told her, "I don't think it's my calling, but if it's your calling, it's our calling." When a health issue emerged for her, however, the mission board didn't want to proceed.
Though Mary Ann was very disappointed, she said that since the issue was hers and not Gene's, and that it had been her prompting and not his, she decided the mission field was not where God wanted her to be. "I accepted that."
Their next church was at Bellevue Baptist Church in Gadsden, where Gene became minister of education. But when a new pastor came on board, he wanted to bring his own staff. Providentially, the pastor of Normandale Baptist Church in Montgomery made a visit to the Hannahs.
Moving to Montgomery
"As the Lord would have it, Earl Hall appeared at our back door. He told Gene he wanted him to come to Montgomery and be his minister of education, so it appeared that's what we were meant to do. So we came to Montgomery."
That was about 50 years ago. While Gene was on staff there, Taylor Morrow was the CEO of Baptist Medical Center and a member of Normandale. He asked Gene to start the hospital's foundation and to oversee community relations. So Gene took the new position. The Hannahs stayed at Normandale as members for a while until making a switch to First Baptist sometime in the 1970s.
"Normandale was wonderful to raise kids. I credit them with helping me raise my children." That would be Charlie, Scott, Bill and Buddy.
At First Baptist, Gene has served as a deacon and Sunday school teacher. He and Mary Ann also taught couples' classes. During that period when First Baptist had three worship services and two Sunday school times, Gene was asked to move their class to 8:30. "It turned out to be a strong Sunday school time for people," Mary Ann said. "It really gelled. They became a good class." When the schedule changed with the opening of the sanctuary in 2004, the class moved to 9:45 – and Gene stayed on as teacher until about three years ago.
Mary Ann did return to college, by the way. She received a degree from Auburn University Montgomery and became a teacher at age 40. She taught social studies for eighth and ninth graders for the next 20 years. "It was a really, really good experience," she said, "I loved it." Though she added, "Not every minute of every day."
Sticking Close to Home
After retirement, Mary Ann stayed busy – volunteering at the hospital, conducting school tours at Old Alabama Town, working with the Conversational English program at First Baptist and other things. But all that changed about three years ago when Gene began to change. "I had seen signs, but it became pretty obvious back then that I needed to be at home," she said.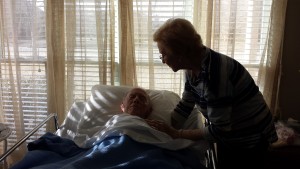 Gene had loved retirement, she explained, and one of his favorite hobbies was his work with radio-controlled airplanes. "One of the most revealing things to me," Mary Ann said, "was when he had no interest at all. He just walked out of his shop." She knew something was seriously wrong, and her focus shifted to taking care of him through this Alzheimer's journey.
"For the last two years, I haven't done anything that didn't include him," she said.
Mary Ann speaks very highly of the respite program offered through First United Methodist Church. "They meet four days a week. It's from 10 till 2." The participants with issues of dementia do artwork, play games, do exercises. Gene loved it, she said, and that's when Mary Ann was able to run errands. He had to stop attending just last week, and she now has 24-hour care (unless she's taking one of those shifts herself). "It's just an excellent, excellent caring program," Mary Ann said.
She also attends a support group for caregivers conducted through First Baptist's community ministries program. Her goal now is to keep Gene at home for as long as she can. She's 82, he's 84.
Neighbors and friends have helped often, and Mary Ann is appreciative. And sometimes strangers. "When you push a person in a wheelchair, people will cross the street to help you," she said.
"People say 'I am praying for you,' and it really makes a difference. I don't know what we would do without support from other people."
She added, "I see Christ working through people. I see Christ working in people. I am a limited theologian, but I think that's the way it works."
_____
"At Home with Mary Ann and Gene" is a story by Minnie Lamberth in her continuing series "People I Met at Church." It was posted on February 14, 2015.