By Minnie Lam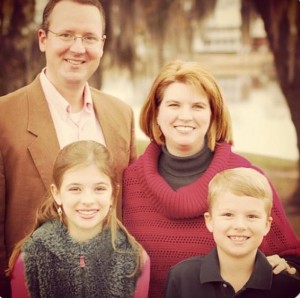 berth
I'm not sure why I would have gone to a Lee High School football game in the fall of 1989. But I'm pretty sure I did. Because I'm pretty sure I remember seeing Kerry Palmer at least once in his role as drum major for the Generals.
Who knows, I probably made some new friends from Montgomery when I started attending First Baptist, and they probably invited me. People in the South are friendly, you know – always inviting you to church and football games. So that's probably how I got there.
In any case, Lee had two drum majors during those days, a boy and a girl, and Kerry shared that responsibility with another. Even now, it's probably one of the biggest stages he's known as a band director.
"We were one of the major high schools in the state," Kerry said. "Our team was good. We had huge attendance." When they played inter-city rival Jeff Davis, as a matter of fact, the 25,000-seat Cramton Bowl was packed.
This role as high school drum major was one Kerry – a euphonium player – had wanted for a while. "I really wanted to do that from the time I was in about the ninth grade," he said. "The end of my junior year, I auditioned and got it."
After high school, he had intended to attend the University of Alabama – maybe even try out for drum major there – but his plans changed when a future mentor, Dr. Johnny Long, offered him scholarship money to head to Troy. This time, there would be only one drum major, and Kerry would lead "The Sound of the South" for three years. During his student days, he also became very close with Dr. Long, the Director of Bands and Dean of School of Fine Arts.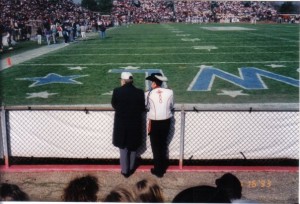 Back to First Baptist
Kerry's family had been members of First Baptist earlier, returning in 1990 after they had helped start the then-new church on Taylor Road.  That's when Kerry became friends with Mark Green, assistant minister of music. "He hired me every Christmas for all of my college years to be part of the Master Brass."
So Kerry pulled out his euphonium and joined the ensemble of brass instruments, which played before each Living Christmas Tree performance (this was a tradition that continued until the orchestra was added to the performances in 2005). Kerry also joined the Sanctuary Choir in 1996, after college graduation, and that's when he met Robyn Self. They married less than a year later, and today they have two children, LeeAnn and Benton.
The First Baptist orchestra was started 30 years ago and has for a little more than half of its existence been directed by the assistant minister of music, a position that has typically turned over with some frequency. First, there was David Schwoebel, then Mark Green, then Tony DeSoto, then John Robert Orr. Kerry and Robyn were both in the orchestra during their early adult life (she played percussion), and once for a brief time between Tony and John Robert, Kerry had served as interim director.
When John Robert left to continue his education, several of the orchestra members approached Bill Roper with a suggestion. As Kerry explained, "They said, 'We have a band director in the orchestra. Why don't you make him the orchestra director so that we don't have to change every three or four years?'"
Bill took their suggestion. That was in 2000, and Kerry has now entered his fourteenth year as orchestra director.
Limited Time and Space
The responsibility was smaller in scope in the beginning, with more limited space. The orchestra played the first Sunday morning and third Sunday night each month for nine months of the year, and none in the summer.
When worship was still held in the Stakely Sanctuary, there were three morning services – 8:20, 9:40 and 11:00. The orchestra didn't have a designated spot, so they had to create one between the pulpit and first row of pews. That meant 20 to 25 orchestra members set up chairs and music stands before each service and took them down during the service after they played. After all, they needed to clear a path for an invitation at the end of the service, or what was the point?
"We had this little closet near the water fountain past the men's room," Kerry explained. "That closet had a rack with chairs and music stands. They had to haul all that into the sanctuary and set it up, then break it down after they played."
In the current sanctuary, the chairs and stands can stay for the whole service. So can the orchestra members, for that matter.
In those earlier days, the orchestra rehearsed in the sanctuary on Sundays at 5, the only logical time, given that on Wednesdays prayer meeting met in the sanctuary, and food was being served in the fellowship hall, and there was nowhere else available. The downside of trying to rehearse at 5 before a worship service that begins at 6:15 is that you have people coming in to check the sound or secure their pew or whatever else might need attending to during the rehearsal.  
"When we first moved into the new sanctuary, the first thing I asked was if we could move rehearsals from Sunday to Wednesday," Kerry said. "I wanted to make it part of the Wednesday evening music routine." Though some had to choose between responsibilities, most chose orchestra, he said. "It has been the best move we ever made."
Once in the new sanctuary, Chip Colee, who had become minister of music in August 2004, made a request of Kerry. He said, "I know it's going to take a while, but I would like to come to the point where the orchestra is in that orchestra space every single week."
That has happened because orchestra members supported the request. "The commitment level is very high," Kerry said. "We have 30 to 35 play almost every week."
An Amazing Legacy
Kerry said of the church, "We have a musical legacy that's really quite amazing." He spoke of Bill Roper and Chip Colee as "two of the finest human beings I've ever worked for. I've been very blessed." He said that, with the age differences, Bill was more like a father figure, whereas Chip was like a big brother.
And he remembered those times when he and Bill would both come to the church on Saturday afternoons to get ready for the next morning. "We would think we were the only ones there," Kerry said, and they'd turn a corner and scare the daylights out of each other. There were other moments where Bill would lean on the choir railing, and Kerry would sit in one of the platform chairs, and they'd get lost in conversation. "It was very special," Kerry said. He still has a folder of letters that Bill wrote to him over the years.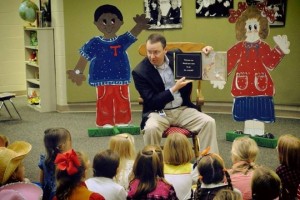 In addition to his role as orchestra director, Kerry has followed a career path that has been bringing him increasing responsibilities. He was band director at Tallassee High School when he became orchestra director. After Tallassee, Kerry was band director at Jeff Davis High School for a few years. Next up, he organized and founded the band program at Catholic High School. In the meantime, he had completed his master's at AUM in educational leadership, and he said, "Catholic appointed me as assistant principal of the middle school."
In 2008, he was offered the position as middle school principal at Trinity Presbyterian School. And in May 2013, he began serving as Head of School.
As Kerry was being interviewed for his current position, he said, "The search committee asked me, 'Do you think you'll be keeping your orchestra position at First Baptist Church?'" Kerry said yes, and added, "If I give up directing that orchestra, I would be sitting in at play." He can't survive without music. "It's very refreshing to walk into that sanctuary on Wednesdays," he said.
Meet the Parents
Kerry's mother is Katie Palmer, who worked for 30 years as a secretary at the Baptist Building (and actually did so even before it was the Baptist Building on Southern Blvd. but was located somewhere on Perry Street). His father is Jim Palmer, long-time editorial cartoonist for the Montgomery Advertiser.
I reminded Kerry that I had known his father when I was public information officer for the Alabama Commission on Higher Education. Whenever a university president left his or her position, we would commission Jim to create a cartoon drawing about that president, which would be presented as a goodbye during a Commission meeting.
This was probably Kay Ivey's idea; she was my supervisor at the time. But I was the one who made the contact with Jim and picked up the drawing when it was done. There were many fine aspects of my job in state government, not the least of which was a regular salary. But, as nice as that office was, any chance to leave for a while to run an errand was a good thing. So I was happy to say, "I have to pick up a drawing from Jim Palmer at the Advertiser." Plus, I liked walking through the Advertiser newsroom. Who wouldn't?
Kerry told me that Jim had grown up in East Texas, and while he was in Dallas in art school, he met a cartoonist at the Dallas Morning News who helped him get a position at the Alabama Journal, the afternoon paper in Montgomery at the time.
Jim was at the Journal from 1968 to 1972, during which time he met Katie at First Baptist Church, and they married there in 1969. Jim was hired by the Dallas Morning News next, working there from 1972 to 1978. But he didn't like it. "He was very, very restricted in what he could draw," Kerry said. "He was there during Watergate but couldn't draw it."
Fortunately, the Palmers came back to Montgomery in 1978. This time Jim was at the Advertiser, where he applied his ink to local and state politics.  Like they say, he had plenty of material. Kerry said his dad's assessment went like this: "There's no better place in America to be an editorial cartoonist than Montgomery, Alabama." Indeed.
***
"Conducting the Orchestra with Kerry" is part of a continuing series of stories by Minnie Lamberth called "People I Met at Church." Published March 30, 2014. This story and many others are posted on the Church Stories page at  http://minnielamberth.com