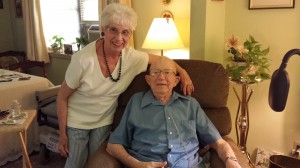 By Minnie Lamberth
On Wares Ferry Road, not far from Twain Curve and the Bypass, in the middle of a busy commercial area, there is a very large magnolia tree. Behind that magnolia tree, there is a house. In that house is where John and Helen Figh have lived since 1958.
"I was glad John had the foresight to build our house back from the road," Helen said when I stopped by to visit. "With that magnolia tree, we're not disturbed at all by the traffic." And she echoed the thought I had in mind myself, "Everybody that comes by says 'I didn't know there was a house back there.'"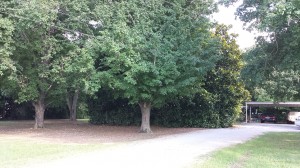 John was on the cradle roll of First Baptist Church, having attended since he was born 84 years ago. Helen joined sometime later, when she was 13. Today, they stick close to home. But they still get a lot of visits from their Sunday school class and the in-home ministry.
At the time they married and built this home, John's family owned most of the land along Wares Ferry – as Helen explained "from the railroad tracks to the other side of Dollar General." His parents had bought an old house and renovated it, and they bought a lot of land in that area.
John and Helen built their house in front of his parents' home. An aunt lived next door. Cotton fields were across the street. And crop duster planes would fly over the house, leaving a lot of dust in their yard and drive.
For their first few months of their married life, the Fighs stayed with John's parents while the house was being built. Helen said, "We married in August. We moved in in October. We walked down every afternoon to watch it being built."
By then John had attended college in Auburn and served in the Air Force during the Korean conflict. "In Vermont," he said. That's where he was stationed. Here John mentioned that he didn't want to get too political, but "they didn't settle anything over there."
I said, "It's probably not too political to say that things are unsettled."
Running a Poultry Business
When he was back in Montgomery, John started the Figh Egg Farm on his family's land.
"He was quite well known for having good eggs, good fresh eggs," Helen said. "A lot of people that were in the church were his customers." She said they had three chicken houses. "He would gather the eggs. We would grade them small, medium and large and sell them to grocery stores and restaurants and home delivery."
By 1976, though, times had changed, and John closed the Figh Egg Farm. Soon people began to ask about the land.
"Wallace Owen who owned Berry Optical approached me," John said. Owen said he wanted to open an optical shop. "He asked how much do I want?" John consulted with a friend from church and priced it by the square foot, for apparently agreeable terms. That was the first business to locate on the former Figh land, with more to come.
"They gradually sold of pieces of it," Helen said. "I just stayed behind my magnolia tree and didn't leave."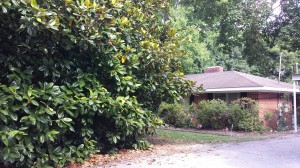 Helen had attended Huntingdon College. I knew that because, over the years, I had seen the Fighs many times at Huntingdon events, and John had told me that a long-time Huntingdon professor, Margaret Figh, was his aunt. After graduation, Helen taught at various schools in the city for 26 years.
Both of the Fighs were active at First Baptist, where they raised two children a son, Jack, and a daughter, Susan.
John was a member of the sanctuary choir from the time he returned from his military service in Vermont until around 2005 when it had become too difficult for him to navigate getting in and out of the choir loft. In those early days, he said, "We had an organist named Betty Doss. She played the organ and led the singing. The first arm waver we got was Posey Starkey."
This was a big change in the music at the church – someone who stood in front and led the singing by moving his arms. "First Baptist frowned on that," John said. "It wasn't sophisticated."
His soon-to-be sister-in-law, Virginia Figh, was a Methodist and lived in Prattville. At one point, she was filling in as an organist for First Baptist, and that's when John met her and introduced her to his brother Lewis.
John also taught Sunday school for teenage boys and worked in training union. Helen taught Sunday school as well and was a part of the Women's Missionary Union and sometimes Vacation Bible School.
John's membership in First Baptist has covered quite a few pastors. The first he remembers, Dr. Tripp, had a daughter. "Nancy was a girl I went on the first date on. I was a teenager." When I asked where they went, he laughed and said, "We didn't go anywhere. We walked down the street." But then he added, "I think we went to a movie."
Connections to City History
John's family is connected to the city's history. "My grandfather built the Figh-Pickett house," he said. This home built in the late 1830s by John Poston Figh is the oldest surviving brick residence in Montgomery – and the only brick residence in the city to have been moved.
The historical marker in front of the Figh-Pickett House explains: "John P. Figh, a native of Maryland, built this, the oldest surviving brick dwelling in Montgomery, ca 1837, at the corner of Clayton and South Court Streets. Figh was one of the chief contractors for the construction of the Alabama State Capitol. He also served as city alderman. In 1858, Figh sold his house to Alabama's first historian, Albert James Pickett, from North Carolina. Although Pickett died just before moving into the house, his family lived here for more than 50 years."
The house was later a school for boys, a paint store and a convenience store, among other enterprises. During an expansion of the federal courthouse in 1996, and through the great effort of the Montgomery County Historical Society, the Figh-Pickett House was moved to 512 South Court Street and restored. "It was quite an event to see it moved up Court Street," Helen said. You can read more about the Figh-Pickett House here: http://www.montgomeryhistoricalsociety.com/#!fighpicketthouse/c1enr.
_______
"Beyond the Magnolia Tree with John and Helen" is a part of a continuing series of stories by Minnie Lamberth about "People I Met at Church." Posted in June 2014.