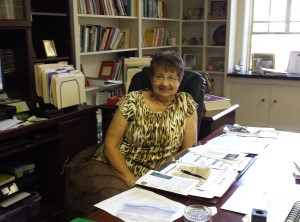 By Minnie Lamberth
In this part of the state, the name Jane Ferguson is synonymous with community ministries. The stats for the programs she oversees at First Baptist Church in Montgomery are impressive and inspiring. They're even more so when you realize how it all began.
Jane grew up in Webster's Chapel, a small town in Calhoun County, and graduated from Alexandria High School at age 16. What would she do next? "Had not a clue what I was going to do after I graduated," she said. "Never dreamed of being able to go to college. My family couldn't afford to send me."
Providentially, a friend from church helped her see another path. "She asked me if I was going to college. I told her my parents couldn't afford it. She told me, 'You could get a scholarship and work your way through.'" Thanks to that suggestion, Jane ended up the next fall at Jacksonville State College, as it was known then. "That was in '57. That's where I met Barney," she said.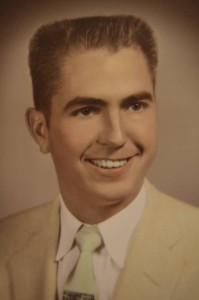 She clarified that she actually met Barney sooner than that when he came to her home church, Mt. Gilead Baptist Church, to serve as the student pastor. Once she was at Jacksonville, they began dating. During that time, Barney's roommate was from Alexander City and had heard that the Sixth Street Baptist Church there was looking for a pastor. He suggested they contact Barney.
"The pulpit committee came to the college to meet us," Jane said. "One of the men said, 'We would really like to have a pastor that is married.' Well, Barney told them he could get that way. That was probably in October, and we were married on Valentine's Day in '59."
After the wedding, the couple drove to Alex City to their new home in the parsonage next door to the church. Barney preached the next morning, then the Fergusons left for their honeymoon. They were in Alex City 5 ½ years. "Both our girls were born there." First Renee, then Rhonda. After that, the Fergusons went to Goodyear Heights in Gadsden (about a mile from the Goodyear plant).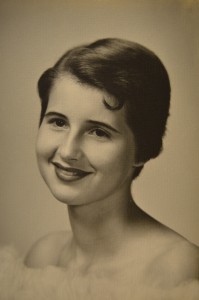 Soon, the family made a big change so that Barney could attend Southern Baptist Theological Seminary in Louisville, Kentucky. Jane had left school to get married; Barney had a college degree but no a seminary degree.
"That was a gigantic leap of faith," Jane said. "We had a good church, a growing church, decent salary. He felt led to further his education. We left with two children and no income. Certainly the Lord provided, and Barney never missed a Sunday preaching." He filled in as a supply preacher on Sundays, and Jane worked at the seminary.
During this seminary training, they were called to a church in Danville, just west of Indianapolis. "So every weekend on Friday afternoon, Barney and the girls would come to the seminary and pick me up, and we would drive to Indianapolis, two and one half hours. The interstate hadn't been completed yet."
They did so for 3 ½ years, every Friday to Sunday. One of these Sunday nights, a big world event or, rather, an other-worldly event took place. "We can always remember where we saw the first man walk on the moon," Jane said.
The Fergusons has a red Impala with bucket seats. Barney had gotten a small black-and-white TV that he could plug into the cigarette lighter to entertain the kids. "He was ahead of his time. He was always thinking outside the box," Jane said.
"On the night that Neil Armstrong was to walk on the moon, we stopped at a roadside park. He set the TV up on a picnic table. Everybody in that park stood around watching. It was about 50 people."
During those days, Jane said, "We lived in P1 Seminary Village. That's where most of the married students lived with their families. When Barney graduated from seminary, we just moved across town to 18th Street Baptist Church where he became pastor. He was there 19 years."
Back to School
This is where Jane began to change direction. "It was an inner city church. We were trying to deal with all these problems in the inner city and certainly weren't trained to know how to deal with them," she said.
After they'd been there over 10 years, Jane decided to go back to college to finish a degree so that she could go to seminary to get a degree in social work. Her degree in sociology came from the University of Louisville then she attended Southern seminary. "I graduated in 1988 with a degree in theology and a master's degree in church social work."
Jane pointed out a significant factor. "When I started talking about going back to school, there was a wealthy man in our church. He said, 'Jane Ferguson, anybody that decides to go back to school at your age deserves to have it paid for.' So Jim Smith, a deacon at our church, paid for all my college and seminary education – fees, books, everything. These days, there aren't many days that go by that I don't think about Jim Smith and his investment in me."
With Jane's degrees completed, the Fergusons began to consider their next move. "Barney and I had decided that when I graduated, whoever got an opportunity first, that would be the direction we would go. I had the first opportunity."
Called to Montgomery
Dale Huff was the pastor of First Baptist Church in Montgomery in 1988 when he called Jane to tell her the church had invited her to come to start up the community ministries program. At the time of this phone call, Barney was in Tok, Alaska, on a mission trip.
"I called him, told him we were moving to Montgomery," Jane said. "It was extremely fortunate that Barney was willing to give up his position to come here with me. Most men would not have done that."
Jane noted another significant factor. "We did not know it at the time, but Barney would have had cancer by then. Among other things, I see our move as God's way of providing for me when he was gone."
Jane added, "God has been with us every step of the way and certainly blessed me way beyond any expectation I had."
Barney was diagnosed with prostate cancer after their move to Montgomery. Yet his first major health issue occurred between Jane's acceptance of this new position in Montgomery and their actual relocation from Kentucky.
"The week the movers were to come to the home we had lived in and raised our children, we had gone to one of Barney's going-away parties," Jane said. "We were eating cake. He leaned over and said, 'I think I had a heart attack.' Well, I about had a heart attack."
It seems he had been visiting church members in the hospital and had felt sick and sat down on the curb. But now he was at a going-away party, and Jane said they were going to the hospital. Sure enough, he'd had a heart attack. While in the hospital, he took a turn for the worse and had another one.
"The day the movers came, I was in the house alone," Jane said. "I thought, 'God, what have I gotten ourselves into?' I have not felt pain worse than that. Didn't know what was going to happen with Barney."
But they stuck to the plan. "He came home from the hospital one night, and the next day, we came to Montgomery."
Jane said she was scared – and excited. "Driving down I65, I remember asking God to give me at least 20 years to put into practice what I had learned. He's given me far more than I asked for, which He usually does."
She said, "When I got here, there was $1,004 in a benevolent account. My first day on the job, Dale Huff called me in his office. He said, 'OK, Jane, you're the expert. Tell us what to do.' It liked to scared me to death.
"My first office was literally in a closet in the old youth center. My bookcase was made out of cement blocks with a board over it."
She said of Dale, "He actually gave me a great gift in that he trusted me to develop the program in the way I thought it needed to be done."
Jane's year-end report from 2014 shows a pretty clear picture of how much has been developed. The Caring Center alone registered 11,646 adults, distributed 81 tons of food, and gave $62,011 in financial assistance, among meeting other needs. The Conversational English School enrolled nearly 300 students from 51 countries. The Children's Learning Center enrolled more than 90 preschoolers. The Nehemiah Project, led by Jane's daughter Rhonda, is growing and thriving as it provides needed ministries in the Chisolm community. And there are English as a Second Language classes, tutoring at-risk students, support groups and counseling care – all under the community ministries umbrella.
___________