By Minnie Lamberth
     On Wednesday nights, after the kitchen volunteers have completed their serving duties for First Baptist's fellowship supper, we sit at the workers' table and eat our own supper. Henry Lyon III, a 78-year-old retired pastor and state missionary, takes the spot at the end — but only as a protective measure for the other workers.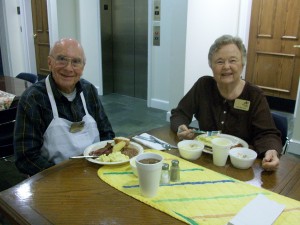 It seems this long wooden table has thick legs at the end that restrict the space for the legs of the person who sits there. As Henry explained, if someone sits at the end and doesn't know how the table is configured, "They'd hit their kneecap." So he decided some years back, "I'd either take the blow or know it was there. That's why I take that place — to keep somebody else from hitting the table."
     Sara Jane, his wife of 52 years, sits to his left, and I sit to Sara Jane's left. That's how and where I heard many of the stories Henry has told from his life as pastor of First Baptist Church in Selma — having arrived there in 1965 just after racial clashes brought the burdened city national attention. At this table, Henry has talked of being the son of well-known Montgomery pastor Henry Lyon Jr., who, incidentally, conducted the funeral in 1953 for Hank Williams Sr.
     This table is where I heard Henry tell of his student days at Montgomery's Lanier High School, where he, for some reason, drove a motorcycle into the hallway one day. He has made mention that he is the nephew of Herschel Hobbs, a renowned Southern Baptist preacher who once headed the Southern Baptist Convention and wrote the 1963 Baptist Faith & Message, and with whom Henry and his mother lived for two years at the end of World War II. Henry has talked about his work at the Baptist building, where he served as a state missionary and traveled the state leading conferences and training sessions.
     At this table, Henry told of pastoring his first church, Snowdoun Baptist, at age 17. Then he spent two years as a student at the United Methodist-affiliated Huntingdon College, where he was by popular vote elected president of the campus ministerial association. The association had him instead settle for the role as vice president because it would not be quite right to have a Baptist heading the Methodist clergy-in-training group. His father soon advised him that if he wanted to be a Baptist preacher, he should transfer to Howard College (now Samford University), which is where he would meet people leading Baptist churches. And, it turns out, he would also meet Sara Jane Flowers of Ozark, Alabama.
     Sara Jane has been reading the stories of "People I Met at Church" that I've posted here, and I asked her not long ago if she and Henry should be my next story. "Well, I don't know," Sara Jane replied. "What have we done that would warrant a story?"
     Hmm, that is a puzzle. Let me see if I can come up with something.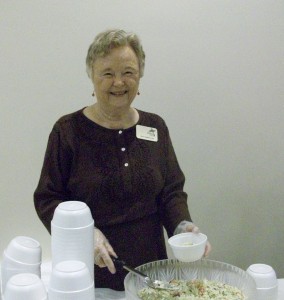 I asked Henry and Sara Jane first about their role as kitchen volunteers — and how long they'd been working in this capacity. But they don't remember. First, one of them said, "three or four years." But I explained that I'd been a volunteer for at least five years, and they were already working in the kitchen then and in fact serving me before that when I used to come through on the other side of the line.
     So all they know for sure is that, one Sunday morning, Dean Thornell told them, "I really need some more servers in the kitchen," and asked if they'd help. The Lyons started helping and have continued to do so because, as Sara Jane explained, "We've never been dismissed from service."
     Sara Jane works the salad bar. "It's so different from anything else I've done as a pastor's wife," she said. "This is just a service I've never had available."
     Henry works the drink station. "As a pastor, I never had the opportunity to serve tea in the serving line," he said. And Henry enjoys this assignment. "I like seeing people. You get to learn a lot of names. I love the interaction with people."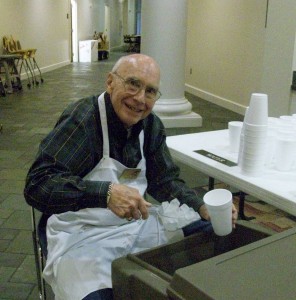 Why do they do this? "The main reason is because somebody has to do it," Henry said. "All my life I've talked about pastors and deacons doing servant ministry. I've never had the opportunity to serve like this."
     But they do serve in other ways as well. They both teach Sunday school, and Sara Jane is the leader of a Women's Missionary Union group. They've been members of First Baptist Church of Montgomery since 1986, when Henry concluded 21 years as pastor of FBC Selma and began a new phase in his career. He had received an invitation to become a state missionary and would serve as Director of Deacon and Family Ministries for the Alabama Baptist Convention State Board of Missions. Located on the Southern Boulevard, this is an organization known colloquially as the "Baptist building."
     In this role, Henry traveled around the state to various churches, and Sara Jane often went with him. "That was fun," Sara Jane said. "It came during a time in our lives where our (two) children were married or in college, and I went too. If he did a deacons' conference, I'd do the wives' conference."
     Sara Jane had gotten her Master of Social Work degree from Tulane University as Henry attended the New Orleans Baptist Theological Seminary and had felt that the Lord had prepared her to help Henry in the leadership of marriage and family ministries. "We felt like we were ministering as a team," she said.
     Henry said he learned during that time that "there are good people everywhere, and there are good churches all over our state, and good pastors that are working hard and training hard." He added that a lot of those pastors are bi-vocational; they hadn't been to seminary and could benefit from the resources Henry provided.
The Call to Selma
     Henry's career as a pastor, which had begun in his teenage years, led him from Snowdoun Baptist Church, to Pike Road Baptist Church, Eastern Valley Baptist in Bessemer and First Baptist in Anniston.
     While Henry was happily serving at First Baptist Anniston, a pulpit committee from First Baptist Selma came for a visit. But Henry was not the one they had in mind. Apparently, they'd been given the name of someone in Anniston, but they couldn't find him. So, while visiting First Baptist, they sent a note to the pulpit that basically said, "Yes, we're here, but we're not here to hear you."
     After all, Henry was only 29 years old at the time. First Baptist Selma was accustomed to a more seasoned pastor. While they liked his preaching, Henry's age remained a factor. And there are, of course, other factors that a young man with a young family would have on his mind, in 1965, if someone had asked him to consider a move to Selma.
     The eyes of the nation were on that small city in March of that year when 500 to 600 civil rights marchers crossed the Edmund Pettus Bridge and ran into a wall of state troopers on the other side. Demonstrators were knocked down, beaten; tear gas was fired. And televised images of bloodied and injured marchers were transmitted across the country.
     In 1965, the Lyons' daughter Jane was just 4 years old, and Sara Jane was pregnant with their son, David. The pulpit committee and its various members kept coming for about six weeks. But as Henry said, "The Lord had not told me that I was to go to Selma."
     One Sunday, he was preaching a revival at his father's church in Montgomery, Highland Avenue Baptist, and other members of the Selma church came to hear him there. Later, Henry's mother asked him about Selma, and he replied, "Nobody would want to go there."
     She asked, "Have you asked the Lord what He thinks about it?"
     Henry took time to ask this question. He walked out to his car, and he began, "Lord, I always want to be in Your will." When his time of prayer was done, the message was clear: "I want you in Selma."
     "As far as I was concerned, that settled it," Henry said. He told Sara Jane, "We're going to Selma."
     She asked, "Have they called you?"
     He said, "No, but they will."
     First Baptist Selma did indeed call Henry as pastor. But not unanimously. One of the pulpit committee members again protested about Henry's age, but another said, "I can guarantee you; he will get older."
     At the time, Sara Jane was too pregnant to travel. She gave birth to their second child, David, in Anniston, and while she remained in the hospital, Henry began the move to Selma.
     "I had never laid eyes on the pastorium," she said. "Henry could not remember how many bedrooms it had. He remembered that it had a fireplace and a nice dishwasher and a big backyard. He couldn't remember if it had a separate dining room."
     In the middle of this move and birth of their second child, the Lyons' new church needed three funerals conducted. Three church members had passed away — not on the same day — but the funerals were waiting for their new pastor to come on board. So Henry's father was dispatched to the hospital in Anniston, where he retrieved Sara Jane and David and drove them to their new home, as Henry stayed in Selma to conduct the funerals.
     As Mr. Lyon chauffeured the mother and newborn to Selma, Sara Jane said, "I still remember the feeling of excitement driving over the Edmund Pettus Bridge — with David in the laundry basket." And the Lyons' 21 years in Selma remains a high point for their lives.
A Wonderful Church for a Family
     "It was the most wonderful city for our two children to grow up," Sara Jane said.
     "The church — they let me be a daddy to my children," Henry added. "They knew I wanted to go to the ballpark."
     As an example, he said that when David was about 14 years old, he was to pitch in a Dizzy Dean World Series Tournament held that year in Selma. But it was on a deacons' meeting night.
     "David had tears in his eyes when he left knowing his daddy could not be there to see him pitch," Sara Jane said.
     But when Henry got to the meeting, one of the deacons said, "We read in the paper that David is pitching. Henry, get out of here." So he left for his son's game.
     The Vietnam conflict was also present in Selma during the 1960s and '70s. "Craig Field was in its heyday," Henry said. At this location, the Air Force was training pilots for Vietnam, and some of the trainees came to First Baptist.
     "I'd do a 30 to 40 minute Bible study for them," Henry said. Later, he conducted the funeral for one of those pilots, and another was shot down and held as a prisoner of war for four years. Even as they left Selma for Vietnam, some of the attendees in the Bible studies would write and request tapes of Henry's sermons. Then they'd write back to tell how many had accepted Christ after listening to the tapes.
     No one would suggest that Selma, even now, is free of the burdens it has borne as a scene of racial strife. "What I tried to do was pastor my church," Henry said. "I cultivated friends with both races." And it was a place where he and Sara Jane served as they were called.
     Sara Jane loved being a pastor's wife, saying it was "the most fulfilling thing I could have ever done." This call was something that came to her even before she knew Henry. "I always felt as an older teenager that God had called me to be a pastor's wife," she said. "I did not tell Henry until well after we were engaged."
     She did apply her master's from Tulane in the workplace at one particular point. "As both children were at Samford, it became wise for me to become gainfully employed since we wanted to eat too," Sara Jane said. "My chief motivation was to get two kids out of Samford, but my real job was being a pastor's wife. That's what I loved."
     She added, "It was wonderful being in Selma long enough to have the baby dedication for a child and being there long enough for their wedding."
The Generation That Came Before
     I did not know until I sat down with them the other day that Sara Jane had lost her father in a random act of violence in 1962. It was the kind we hear about today — where a madman goes on a rampage — and in a moment, lives are turned upside down.
     Fred Flowers was a vice president at The Commercial Bank of Ozark, and he and another man were gunned down by a practicing chiropractor with no criminal record who'd driven from Prattville to Ozark to rob the bank. The gunman was killed in Pike County, following a chase by law enforcement. Later, it was discovered that this man had left notes in his apartment about his plans, along with a 13-step outline of how to conduct a successful bank robbery.
     "There wasn't a finer man that ever lived than Fred Flowers," Henry said. Sara Jane was the oldest of four children, and her mother lived to age 92, always in Ozark.
     Henry's family was one of strong preacher lineage. His father and his father's two brothers all became Baptist pastors, and his mother's sister married Herschel Hobbs, one of the most influential Southern Baptist leaders in the Twentieth Century.
     Henry had felt called to become a preacher as a teenager, and he had been practicing for his call for a long time. As a small child, Henry preached to the chickens in his backyard. For two years, he and his mother lived with the Hobbs family in Mobile, while Mr. Lyon served as a World War II chaplain, and there Henry preached to his cousin Jerry. Jerry was continually moved to respond.
     "He accepted Christ dozens of times," Sara Jane said. Henry would say, "Let's sing one more stanza," and Jerry would come down again.
     As Henry's mother watched one of these scenes unfold, she said to her brother-in-law, "If you want to see yourself, take a look at your nephew."
     Herschel Hobbs asked, "Am I really that loud?"
     "Yes, you are," Mrs. Lyon replied.
A Call from Hank's Mother
     As I mentioned, Henry's father, Henry Lyon Jr., was a well-known Montgomery pastor whose Sunday morning and evening sermons were broadcast on local radio. One evening Hank Williams Sr. was staying with his mother in Montgomery and listening to Mr. Lyon's sermon.
     "He was sitting up in bed with his guitar," Henry said. "His mother brought him a sandwich and a glass of milk. He turned and said to her, 'When I die, I want that man to bury me.'"
     It wasn't very much longer when Hank did die at age 29. His mother remembered that conversation and called Mr. Lyon and told him the story.
     Mr. Lyon did not know Hank Williams, but there's no reason to think that he was a fan of his music or of honky-tonk culture. He agreed to conduct the funeral but with conditions. He would be in charge — in other words, no one from Nashville was going to come down and run this funeral as a spectacle. It would be a solemn moment where the Gospel would be preached. In addition, Henry said, "He copyrighted the sermon he used so that it couldn't be played in jukeboxes around the country."
     In hindsight, Henry added, "I probably would have let it be played, just to get the Gospel in jukeboxes."
Henry Becomes a Storyteller
     Henry is now known in certain circles as a humorous storyteller. He says it's a gift that came to him late in life. "I had never done that in Selma." But while serving on the staff of the state convention, he was conducting a conference at Shocco Springs Baptist Assembly near Talladega. The singer for the event had brought his own sound system, but one of the big tubes had quite loudly blown just before the conference was to begin.
     The musician told Henry, "I've got another one in my car, but it will take about 15 minutes to set it up."
     As Henry explained, "My secretary, Nanette, was playing the piano, so I said, 'Nanette, why don't you sing?' She said, 'No, no — tell them one of the stories you tell around the office.' Right at that moment, God gave me the gift of humor that I never had." And Henry began to tell funny stories to large groups. Or small gatherings. Or sitting at a table of kitchen workers where someone just might say, "Henry, tell us a story."
__________________
"At the Table with Henry and Sara Jane" is part of a continuing series by Minnie Lamberth called People I Met at Church. Originally posted August 2013 at
www.minnielamberth.com
.