By Minnie Lamberth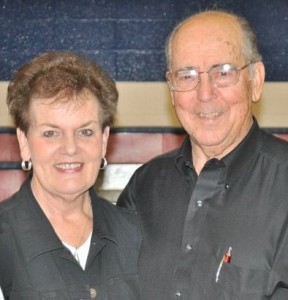 Gil Barrow has retired three times, his wife Barbara says. But retirement seems to have some trouble sticking.
The Barrows have lived in Montgomery for 39 years. For their first decade here, Gil served as pastor of Capital Heights Baptist Church. He has since gone to serve where needed — with a couple of "pastoral supply" experiences lasting quite a while. When he arrived at Hayneville Baptist Church to serve as interim pastor, for example, the plan was for him to stay for six months. He ended up serving for eight years. His current interim position is at Mt. Carmel Baptist Church in Union Springs. "We were just going to stay a few months," Barbara said. "We've been there seven years."
At the same time, the Barrows have been part of First Baptist Church in Montgomery for the last dozen years. They've been Sunday school teachers, have been involved in missions organizations and also volunteer in the Caring Center. Barbara is one of the ones preparing snacks for the teacher's lounge during Vacation Bible School, and Gil participates in and takes his turn leading the pastor's men's Bible study on Friday mornings.
On Sunday mornings, the Barrows attend the 8:30 service at First Baptist but have to scoot out after the closing hymn to be with their church in Union Springs.
Batter up?                                                                     
Gil took a sort of unusual route to his ministerial calling. "I was playing professional baseball," he said. He was living in Pensacola, Florida, where he had grown up, and was in his second year playing with the Brooklyn Dodgers organization. Though Gil didn't play with the parent team, he was expected to do so soon.
"The year I quit I was told by the upper brass I would be the second baseman within a year," he said. But that wasn't enough to keep going because, he said, "I never had a sense of fulfillment." He set his sights elsewhere while working with the Royal Ambassadors program (for grade school boys) at his church. Their main leader, a Navy captain, was stationed in Pensacola and would be leaving soon.
At a campout during that time, Gil said, "One little boy prayed 'Give us a leader just like Captain Jones and let him be a lot like Gil.'"
During that prayer, Gil sensed that he should change directions — ministering to boys like the one who had prayed rather than to be a professional baseball player. "I just felt very strongly that's what I should pursue," Gil said.
Gil tells the story that early in his ministry he preached a sermon where he said, "I gave up my bat for the Bible, my glove for the Gospel, and my shoes for the Lord." Afterwards a man came up to him and said, "You've got to show me in the New Testament where God asked you to give up anything you can use." Indeed, Gil has used baseball many times to make connections.
For example, after he graduated from New Orleans Baptist Theological Seminary, he became associate pastor of Westview Baptist Church in Panama City. The president of a local community college was a member of that church and asked Gil to start the baseball program for his school. "That little church agreed to let me start the program," he said. "I started the first baseball program at Gulf Coast Community College."
Through the baseball program, many students visited the church, and some of the players Gil coached did well in the pros (such as Q.V. Lowe and Don Sutton). "It really gave that little community church some visibility," he said.
Barbara, a native of Tupelo, Mississippi, met Gil when she was a freshman at Mississippi College; he was a senior. Today have three grown children and eight grandchildren. Family is important to them. And so are family legacies.
The Grandchildren's Get-Together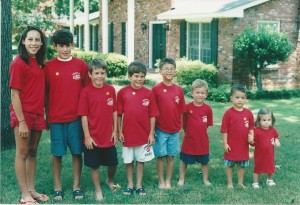 As a matter of fact, the Barrows have made a concerted effort to bring their grandchildren together for a unique gathering each summer. "Just this past weekend, we had the 13th annual cousins camp called Camp Barrow," Barbara said.
She said their grandchildren were spread out in different cities and only spending brief time together at Christmas. The camp has given them a place to get together so that they would grow up together and get to know each other.
"We have put an emphasis on who you are, where did you come from, what does that mean?" Gil said. "We wanted them to build relationships openly. Don't forget who your cousins are, who your aunts and uncles are, your mom and dad."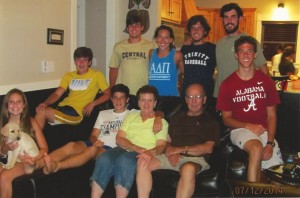 The camp has been held in different locations — at the lake, beach, in the country and in the city — and the Barrows take extra steps to make this event seem very camp-like. "When they first get there, they have a welcome sign. They fill out their registration forms. It's just a fun thing," Barbara said. They have activities – art, games, sports, and watermelon-spitting or pea-shelling contests. Barbara even wears a whistle to call them to events.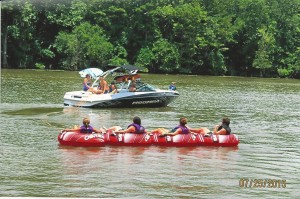 "One year when we had it in Montgomery, we did everything with a downtown theme – went to the Rosa Parks Museum, visited Old Alabama Town, ate a Chris' hot dog, went to a Biscuits game," Barbara said. "When we had it down in the country, we fished, rode horses and drove four-wheelers."
And they remember their Christian roots. "All of my family and all of Barbara's family have strong Christian ties," Gil said. They have a devotional time in the morning and vespers at night. (Barbara added that now they know what vespers means – a service of evening prayer). During the devotions, the older ones have talked about college or shared prayer requests for jobs. And the ones headed that way have talked about what college will be like.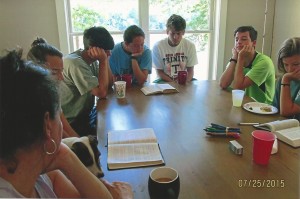 The grandchildren of Bee Bee and Baw Paw, two girls and six boys. range in age from 12 to 24. But they all still try to come, even bringing girlfriends, boyfriends or other friends. And others are taking notice of this good idea.
The Dream Continues
Cathy and Tom Ellis, the owners of Dream Field Farms, are members of the Mt. Carmel church Gil leads — which Barney Ferguson once pastored. The Ellises liked what they heard about the camp and wanted to offer something similar for inner-city kids in their large field of farm-themed outdoor activities.
Through their connections with Jane Ferguson and Rhonda Thompson at First Baptist, the Ellises developed a version of Camp Barrow for the Nehemiah Center kids. Since 2010, they've been bringing about 50 kids from low-income families to the country to enjoy time in the outdoors that many have never experienced.
"They patterned it after Camp Barrow and named it Camp Barrow," Barbara said. "It's structured like a Bible school. It's just like going to camp."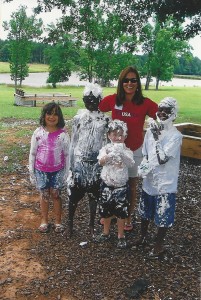 One year, Barbara and Gil's Camp Barrow was held at a large cabin owned by a Mt. Carmel member, and the timing overlapped with the Dream Field Farms Camp Barrow. The campers and their parents and grandparents were able to go to Dream Field Farms to help with the Nehemiah Kids' camp. "This was one of the most memorable blessings from any year," Barbara said.
___________________
"Faith, Family and Baseball — Barrows Style" is part of a continuing series by Minnie Lamberth called "People I Met at Church."