By Minnie Lamberth
"A hundred years from now, it won't matter what my bank account was, or the kind of car I drove… but the world will be a little better because I was important to and made a difference in the life of a child." Anonymous
Cecile Hamblin shared this quote with me when I stopped by to visit her the other day. These words express a philosophy she has lived by for most of her life, and she has made a difference in the lives of many children, and their parents, as a result.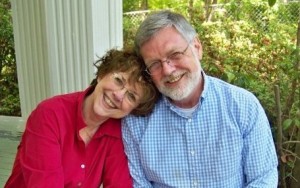 Cecile has been a member of First Baptist Church since 1965, when she moved to Montgomery with her parents, Cecil and Van Waldrop, during her sophomore year in high school. Her church life followed the path of many of those who leave for college and make a slow return back to regular attendance. For Cecile, that time came when a former pastoral intern, Jay Wolf, was named pastor at First Baptist and moved his family back to Montgomery.
"When Jay came back in 1992, I made a beeline for the church," Cecile said. "As an only child, and at the time I wasn't married, I realized that one day the church was going to be my family, and that's where I needed to be."
Since that time, Cecile and her husband, Kim, have shared their lovely home on Perry Street – and their lives – with many families from First Baptist, especially the children within those families. "I have always loved children, playing with children, being with children," Cecile said.  
Perhaps in the technical view of the term, Cecile hasn't been a mother. But that fact has certainly not held her back from an abundance of maternal opportunities. For instance, the children of Jay and Mary Ruth Wolf – Jason, Sarah, Mary Austin and Alex – were high on her commitment list. "Jay said we had 'joint custody' because they stayed at our house a lot," Cecile said.
In the 1990s, Cecile and Mary Ruth were members of the same women's missionary group, and after a meeting at the church, they had walked to the nursery to pick up Alex, the youngest Wolf daughter who was a toddler at the time. Alex had never met Cecile but when she saw her, she came right to her. "She held out her arms and wanted me to pick her up," Cecile said. And that's when it began. "We all became friends. They're just like our children."
The daughters especially stayed many times at Cecile's house overnight. "We would have spend-the-night parties for them. They invited their friends here. When Sarah got married, she wanted to have the bridesmaids luncheon and get dressed over here and ride the trolley to the church." Mary Austin made similar plans, though her bridesmaid luncheon was at Cecile's on Friday.
The Wolfs are just one example of integral family involvement. Cecile has also become friends with Sarah and Kenny Hall and their three boys, Solomon, Harrison and Grayson. The boys sat with the Hamblins during the 8:30 service since both parents are in choir, and sometimes they would keep them when the Halls went out on date nights or had other activities. "I'm still on the check-out list for school," Cecile said. "They still visit."
There was Samantha Grace Duke, who was born to Joshua and Carri Duke when her dad was the church's assistant minister of music. "We became her godparents," Cecile said. Cecile kept Samantha Grace for a time while Carri worked. Later, she said, "I'd pick up Samantha Grace after school – at Trinity's day care." After Samantha Grace had taken her nap, Carri would pick her up at the Hamblins'.  
Cecile also grew close to the Renners and their four children – Logan, Mary Grace, Anna and Paul – when husband Stephen was stationed at Maxwell and wife Jenny was the church pianist. "The Renners were in our Sunday school class, and we all got to be really close friends. The kids and I got to be good friends, and Kim and the kids got to be good friends," Cecile said.
"While Stephen was in Afghanistan for three to six months, on Sunday mornings I had to be at the church at 7 to get the kids so that Jenny could practice. I would take the younger ones to where they needed to be and the older ones would sit with us for the 8:30 service."
Being part of so many families means sharing difficult days as well. Tragically, after the Renner family had moved to England, Logan died in an accident. When the family returned to Montgomery for a memorial service, they gathered with family and out-of-town guests at the Hamblins' home before the service began.
Filling Church Roles Too
Cecile has certainly made a difference in the lives of children through her own personal ministry. She has also been part of many of the more official church ministries. For example, she has taught 2-year-olds in Mission Friends. "We do our best at 2 years old," she said. "If we can get one point across, it's that missionaries tell others about Jesus."
She taught GAs, a missions program for grade-school girls, when the Wolf daughters were going through. 
Until recently, Cecile spent the last six years working on Sunday mornings in the Bed Baby Nursery. "This is the very first room they come in after they've had their shots," she said. But for now, Cecile is returning to adult Sunday school, back to a class with her husband, so she can "get a Bible study tune up."
Cecile was a part of the church's in-home ministry as well. She served a few years ago as director of the program that helps the church stay connected to elderly members who can no longer attend services. She stepped down because of a health issue.
For many years now, Cecile has been involved in the church's tutoring program. As part of a program that provides one-on-one tutoring for children living below the poverty level, Cecile has been mentoring Jamorian since he was in kindergarten. He's heading into third grade next year. "I got him in kindergarten. Hopefully I'll have him again next year."
Jamorian had been born to a 12-year-old mother, and when Cecile realized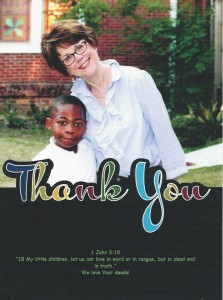 he didn't have male role models in his life, she asked Kim to tutor him with her. In addition to the hour of time the Hamblins have spent with him on Wednesdays during the school year, Cecile and Kim have also made an effort to do things with him on the weekend – for example, bringing him to their home or taking him to McDonald's if he got a good report card.
Of the students, Cecile said, "We do help them with their homework. I prefer to think of it as mentoring, trying to show them a different world than what they see every day."
***
"Cecile and All Her Children" is part of a continuing series of stories about people I met at church. Published on May 10, 2014. Read more here: http://minnielamberth.com/church-stories