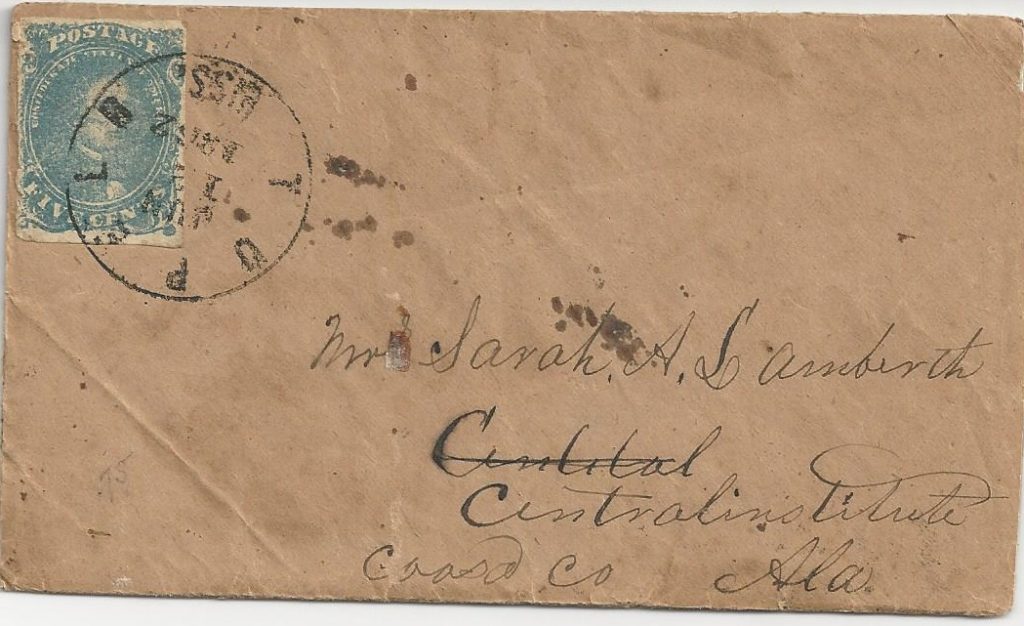 A couple of years ago, I started experimenting with art projects that incorporated pieces of debris that I picked up on my morning walks, and I added within these pieces inspirational phrases that generally came from scripture.
During that season, I was eating lunch at La Zona Rosa, and I saw a friend, Eileen, at another table. She crossed the restaurant to tell me, "I have a verse for you… 'He will rejoice over you with singing.'" This verse from Zephaniah 3 had come to her mind that day, and she thought I might find use for it in my art projects.
I did not find a place, per se, in any of my projects, but I thought often of the verse itself – and what that might be like to have God rejoice over me with singing. This concept seemed pleasant but not necessarily available in my day to day. I thought of this verse again when I attended a Service of Remembrance last November.
On that Sunday afternoon, I was sitting at the end of a pew on the wall-side of the sanctuary at First United Methodist Church, listening to hymns, prayers and readings. I'd been to this service before, but this time I was overjoyed by my experience. The best part was the choral benediction. The choir recessed down those wall-side walkways, then lined up along the wall to stop and sing their final hymn. Choir members, including one of the earlier soloists, were right beside me as they sang this lovely benediction. It was almost like being surrounded by a great chorus of witnesses. I thought, this must be what it's like to have the Lord rejoice over me with singing.
That concept was not far from mind this month as I toyed with the phrase, "The Father's Lullaby." I have been working on a series of parables, and I wondered, what can I do with the word lullaby… I thought about The Daughter's Lullaby, The Creator's Lullaby, The Warrior's Lullaby… Then: No, wait, what about The Father's Lullaby? Where can I go with that? Here's how I found my answer.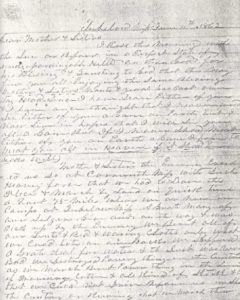 On June 11, 1862, my great grandfather wrote a letter home from a difficult battlefield. This was his closing paragraph:
Mother and Sisters, I want you all to pray for me that I may live to fight through the battles and come out untouched and return to my family. And Mother, if I should fall in the course, I want you to remember my daughter for she feels dear to me as a lovely daughter. My wife is teaching school at Wessobulga and my daughter is going to school. You all must write to her at Wessobulga.
Manuel Lamberth had had terrible experiences in battle – grave illnesses and injury, near starvation, truly troubled times. So I wondered, what if this lullaby were somehow related to him and his daughter – to their an earthly separation that stretched for many miles that, now, a century and a half later still has a message to remember.
That's how this parable came to be.
The Father's Lullaby
By Minnie Lamberth
He lay on a cot in camp, feverish and ill, wondering what his missteps would mean to his little girl. He couldn't have loved her more if he had pulled out his heart and handed it to her with his last breath. But he was here, and she was there.
That night in camp, sick unto death, he thought of this dear daughter, and in his grief, a mournful dispatch eased slowly from his broken spirit:
In my mind, I see you there
And everywhere
A mirage of memory
That never goes away
Be assured
I did not leave
You are not gone
We are together, still.
Far away from this battlefield, his daughter awakened from unsettled sleep. A celestial light peeked through an open window, and she felt welcomed by the sight. The moon had always been her friend –  steady, quiet and present on any dark night.
The loft was warm this evening. Throwing off her cover, she rose, looked out and looked up as the stars blinked their greeting. The land was still, the night air did not move. In this moment all her own, she opened her heart to distant thoughts as a melody that only she could hear floated down from the heavens:
Sleep, my child, in comforted pose
Dream, my child, released from your woes
For love is greater than fear
Whenever your heart draws near
To hear your father's lullaby
She had heard these words before, having been stored in long ago memory. But sometimes in quiet moments they found their way into her waking hours. The melody continued:
Stand firm in the face of any dismay
Journey on in the light of the one true way
The battle is not your own
You know you're never alone
When you hear your father's lullaby.
She took these words in as a treasure beyond what her eyes, ears or mind could comprehend, and as the melody moved around and settled within her spirit, she said with a sigh to the endless sky, "Thank you for this song."
Two hundred miles away, the cot that held her father sagged from the weight of his helpless estate. He could not move. Even so, his feverish mind stirred up the strength of a love that would not end, and he found the breath to voice his deepest plea:
I was born into the life I knew
during these terrible days
Everywhere I look, I see
others just like me
Each person here
misses someone there
as we lift the ones we love
into the heart of God above
In need of sleep, I cannot rest
until I make this fervent request
If I do not return from here
do not believe I left you there
My love was real
We are together, still
Always.
In the distance between them, his daughter bid farewell to the moon and stars, as she voiced her prayer into the sky: "Take care of those we love, this night and always."
And she returned to her bed, where she gathered herself in peaceful slumber.
Change of Perspective
The idea that underlies this parable is: what if I look beyond a sense of abandonment and despair and see instead connection, love and care? How would that shift in perspective change how a story is stored and recalled?
I'll be telling more about this idea in the coming days.
The Lord your God is with you, the Mighty Warrior who saves. He will take great delight in you; in his love he will no longer rebuke you, but will rejoice over you with singing. Zephaniah 3:17