By Minnie Lamberth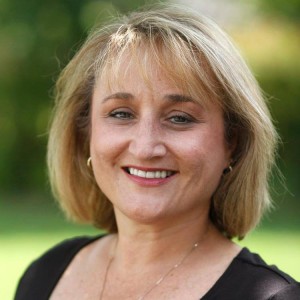 Elise Henderson Sailors sent me one of the most memorable notes I've ever received. But she didn't write it. My mother did. I'll explain that part in a minute.
I first knew Elise during my school days in our hometown, Alexander City. In our adult years, we met again when we both began attending First Baptist Church in Montgomery. She and her husband Jay joined the church in 1990.
"We did not go to church at all our first year of marriage," Elise said. "We decided on our first anniversary to go to church."
Elise, a nurse by training and long-time clinical administrator for Jackson Surgery Center, knew hospital administrator Darryl Weaver from her work. He was a member of First Baptist at the time. "Darryl asked where I went to church. I told him I did not go to church, but we were looking." He invited them to visit First Baptist.
Elise said, "I didn't even know where First Baptist was." They did find Perry Street, though, and she and Jay came to a service and sat behind former members Amanda and Craig Lott. "They invited us to the Newlyweds Class, and the rest is history."
Elise's husband Jay was a staff photographer for the Montgomery Advertiser at the time of their marriage. Today he works for Online Commerce Group. He applies his creative skills at church as well. "Jay has always worked in the broadcast ministry," Elise said. "He's there every time the doors open. He directs many of the services."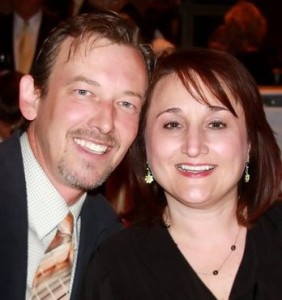 Elise serves in preschool. "I've been working in the nursery for 20 years," she said. She works in age ranges from bed babies to 2 years old – and loves holding babies. "I'm going to be that old lady that, when the parents pick up them up, their kids smell like their perfume. I'm going to be working there till I'm 90."
Anna and Matt
Jay and Elise have two very talented children. Anna graduated in May from the University of Mobile with a major in Worship Leadership. "She sang with Voices of Mobile her whole time in college," Elise said.
"I traveled many, many miles to see the Voices of Mobile." Sometimes she'd leave after church in Montgomery to head down to Mobile for a 6 p.m. service and head back home right after. Or she'd go pretty much anywhere they were singing – if it was within a 2 or 2 ½ hour drive. "I even drove to the other side of Atlanta one time," Elise said.
Son Matt is a senior in high school. "He is a lover of life. He is a band geek and a choir geek and couldn't care less what anybody else thinks." When he was 9 years old, Matt played the role of Michael in the Alabama Shakespeare Festival's production of Peter Pan. He was also in A Christmas Story and A Christmas Carol. "And then he got big," Elise said.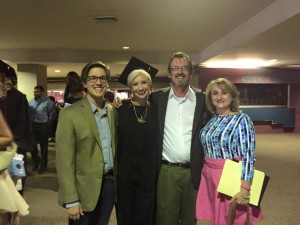 Elise is not quite sure how to explain the source of her children's talent. But as she reflected, she said, "Jay's really creative, and I think they've had a lot of good opportunities through our church and their school. Anna really found out she could sing under the leadership of (FBC member) Mike Spivey at Baldwin (the arts and academic magnet). Matt was under him too."
A Note from Mother
In 1994, at age 30, Elise was diagnosed with Stage 1 Non-Hodgins Lymphoma. Anna was 2 years old at the time. Matt wasn't yet born.
When word of Elise's diagnosis spread back home, my mother called me and asked me to get her address. Mother was Elise's history teacher in junior high school, and she wanted to send a note to her former student.
Elise endured six months of chemo and five weeks of radiation. The treatment was successful, and she was eventually declared cancer free. As it happened, my mother was diagnosed with cancer in 1996 and passed away the following year. I had a chance to speak of her during a worship service some time later, and that's what brought the note back to mind.
In March of 2001, there was a card in my mailbox from Elise. She had written, "After hearing you speak of your mother a few weeks ago, I was so proud to have known her. She taught me in 7th-9th grades. Here is a letter she sent me, probably late May, early June 1994." Then I saw the card with the name Jane Lamberth on the front, and I opened and read my mother's note to Elise.
I can't tell you how much that meant to me to get new words from my mother four years after she was gone. I have never forgotten what that was like.
Elise remembers sending it. "I thought you would like it," she said. "I actually still have a drawer full of notes that people sent me when I had cancer. It taught me so much about how to love others and treat others when they're going through hardships."
Radio Station Groupies
Elise and I have another thing in common. In high school, we were part of a group of teenagers that were in the orbit of Dennis Carter, the then-program director of WRFS, the local radio station. He was sort of the de facto youth leader for an assemblage of students that spanned several class years. One thing Dennis did for us was give us a common place to hang out. He also gave us opportunities.
For example, Dennis named high school sophomores Nolen Graves and Frank Barry the Human Joke Machine and the Human Joke Machine Jr. and gave them a regular spot on his morning radio program to call in and deliver jokes of the day. Also, he recognized me on his morning program for a script I'd written for the high school radio show, and he helped me get my first job as a copywriter – writing ad scripts at the radio station the summer after high school. Not that I was any good; I wasn't. But it was awesome to get my start on the kind of work that I continue to this day.
In addition, he got a whole bunch of youth involved in a musical production that he and a friend developed called "Proud to Be Alex City." Elise was one of the youth on stage, and I got a credit in scriptwriting. I can't remember if I actually wrote anything. But, again, it was awesome to be part of the production and to get my name in the printed program.
It's that printed program, actually, that Elise remembered when I mentioned the production. It was her photo, in fact, that came to mind. These were the days before digital photography where you take one shot after another. At the time, you took one shot then saw what you had after you got the film developed. As it happens, Elise's photo came out a little wild eyed. She said that Dennis told her, "Every time I look at your picture in the program, I die laughing."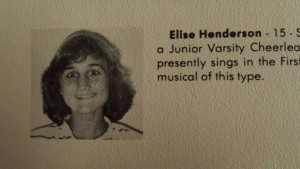 "It was a fun time," she said.
_________
This story is part of a series of stories by Minnie Lamberth called "People I Met at Church." Visit the other pages on my site to find out more about the kind of work I do.