By Minnie Lamberth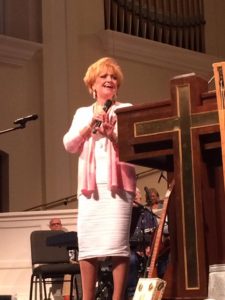 When you hear Karen Mullins sing, you might think of Patsy Cline. Her rich vocals are a soothing, comforting treat. As a matter of fact, when she sings a solo during a service at First Baptist, our pastor is known to say that her voice is as smooth as hot chocolate.
Karen got an early start in the use of this gift – very early. She was two years old when she sang "Living by Faith" as her first church solo. But being two years old, Karen misunderstood the words in the title and thought she was singing, "Living by Fay." Fay was Karen's middle name, her mother always called her "Karen Fay," and that's why she liked the song. "I thought it was about me," she said.  
Karen is the youngest of 11 children. "No two of us were born in the same city," she said. Her daddy was at first an evangelist for the Church of God, and then a pastor at churches in Arkansas, Tennessee, South Carolina and Alabama.
"My mother was from Linden, which is where I grew up," she said. "We moved there when I was in grammar school."
When she was around 18 years old and a student at then-Livingston University, she formed a singing group with her brother Melvin and her sister Genie. "Everybody in my family sang, but we were the ones who traveled and sang," she said.
The siblings, who were known as The McPhersons, sang for gospel concerts and churches on weekends. "We did a lot of revivals," she said. As they came in contact with other groups, they got more opportunities. "We started opening for some country music acts." These included names such as Little Jimmy Dickens, Jerry Clower, Charlie Louvin and Jack Greene.
"We made our first album in 1970, then we did another one in 1972."
Those days are sweet memories. Sadly, Melvin passed away just recently. "There are only four of us left," she said.  
Karen had lived in a few different locations over the years before returning again to Linden, Alabama, to take care of her mother. By then, she had completed school to become a hairdresser, and one of her customers was Robert Mullins. An industrial services salesman, Robert called on paper mills, utilities and other companies in the area. Though he had grown up in Clanton, he was living in Pensacola at the time.  
"He must have liked the way I cut his hair because whenever he came to call on the paper mills, I cut his hair," Karen said. "I cut his hair for five years before he asked me out on a date." 
He has been a blessing, she said. "He was so good to move to Linden. He knew I was there for my mother." They stayed in the small west Alabama town until after her mother passed away. "I said, 'We'll go where you want to go now.' He was working for a company in this area, so we moved here."
This was about 10 years ago, and that's when they joined First Baptist Church.
"My style of music is all I can do because I'm a southern gospel singer," Karen said. Even if she sings something else, she said, it comes out like southern gospel. Fortunately, at First Baptist, she has found a welcoming congregation and many listening ears. "I felt like there was a place for me," she said.
Robert too has joined the sanctuary orchestra. "He didn't play the saxophone for 40 years," Karen said. But then she bought him a used saxophone at a yard sale, and he picked it up again. When they moved to Montgomery, assistant music minister Joshua Duke told Robert he needed to be in the orchestra. And Robert signed on (though he has since bought a nicer saxophone).
***
This story is part of a continuing series called "People I Met at Church."  If you'd like to read about others I've met, check out the Church Stories page. And if you're wandering around the site, be sure to check out my hand-crafted, found-objects Christmas ornaments too.