By Minnie Lamberth
     I wonder if you could mark the seasons of my church experience by where I parked and which door I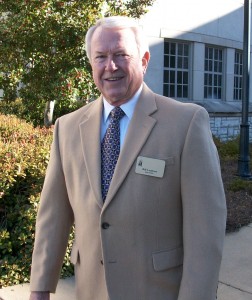 entered. If I'd been taking better notes for the last 25 years, I could give you a better answer. I know there was a time when I entered, or exited, at the main door on Scott Street. At the bottom of the steps, I'd speak to Sara Christenberry, my greeter during that season.
     Mrs. Christenberry was always very friendly, and I came to expect to greet and be greeted by her. At some point, when she moved inside to the foyer of the new sanctuary, I carried the idea that I should greet and be greeted by her into my next phase of parking habits. After all, she had so much experience as my personal greeter, I felt a sense of, if not kinship, at least greetship.
     I can't give you exact dates, but sometime after the new sanctuary opened and before the new parking lot was built, I parked in a space on Alabama Street and entered and exited at the drop-off on Perry Street. Bill Lambert was my greeter during that period (no relation – no "h").
     One standout quality of this season is that I had learned how to be late for church. During other times when I was in the choir, I couldn't be late. But now I was starting to see what it was like to come in after the service started. This was a pivotal skill that came in handy during one of the more memorable moments when that drop-off door was my entry point.
     I had taken my parking spot on Alabama Street and reached the crossing point on Perry when I saw a family. A mother was carrying a baby about age 1 and, with husband and sibling, was crossing the street ahead of me. As the family walked on, the baby looked in my direction, pointed and said, "Ennnhh."
     "What is it?" I wondered, only to look down and see at my feet a fallen shoe, baby size. I held it up for the baby to see.
     "Ennnhh," she said to me. I rushed across Perry Street as the family reached the sidewalk on the other side.
     "Excuse me, excuse me," I was saying. Finally, they turned around.
     "Her shoe." I breathlessly held it out. "She was calling for it."
     "Oh," one of them said, "so that's what she was doing."
     Baby foot and baby shoe were reunited, and I discovered for sure that, sometimes, being late for church has its own rewards.
     Back to Bill Lambert, my friendly greeter during that season. He was so professional and consistent in his approach. If I were holding something – say, a Bible, Sunday school material, purse or umbrella – I knew to go ahead and shift it to the left side before I got to Bill. Because he was going to reach out for my right hand, give me a firm grasp and a pat and say, "God bless you."
     This went on for some time until I changed my parking habits when Alabama Street was paved over as part of the new parking lot construction. Even so, because we'd developed this greeting bond, I tended to greet and be greeted by Bill Lambert during non-Sunday morning appearances at church. Sometimes when I saw him, he'd ask, "Where are you parking now?" And I'd explain whatever my preferred location was during that particular season.
     Recently, I sat down with Bill, and he told me how he got started as a greeter. He traced it back to his days as an usher on Sunday evenings in the old sanctuary. He was positioned at one of the doors in the back and, apparently of his own volition, he spoke to people coming to church.
     "I got into enjoying greeting people," he said. "When we moved to the new sanctuary, I started greeting right away."
     So there he was, an official member of the church greeters, on the sidewalk at the drop-off entrance on Perry Street. "I've been in the same spot since I started," he said. That's nine years now for the 74-year-old retiree. And he's been there pretty much every Sunday that he's in town.
     "I enjoy shaking a hand, saying 'Have a good day and God bless you.' I get to know people in the church."
     Learning the names isn't easy, however. "They don't wear nametags," he said. Indeed they do not. But he does study the church directory, and he'll see someone and say, "Oh, that person comes through my door." But not everyone participates in directory photo shoots. So he added a plug and plea: "Encourage people to put their pictures in the directory." (Consider yourself encouraged.)
     Bill's shift starts at 8 a.m. and lasts until about ten minutes after the 8:30 service begins. "We have a group that's always late," he said. "I can tell who finally comes when it's OK for me to go in."
     Bill is out there in all kinds of weather. "When it's raining, I have a big umbrella," he said. "When it's cold, I have a black topcoat, cowboy hat, gloves." And during those Alabama summers? "I just sweat and bear it. I've learned to accept the fact that I'm going to be damp going into the service."
     Because he's a greeter at a drop-off point, he often helps people from their cars. If he sees a young kid crossing the street with family, he'll go out and carry the child the rest of the way. With one child in particular, he said, "I would walk out to the middle of Perry Street and pick her up." That's when she was 2. Now she's about 8 or 9, so the carrying stopped. But the greeting continued.
     "She gives me a big hug. She gives me little notes and Valentines," he said. "The kids are always fun. I enjoy the kids."
     When Bill is not in town, he's not greeting. But sometimes when he's not in town, he's on a mission trip.
     "I go to Brazil every year," he said. "This will be my thirteenth year I've gone to Brazil."
     Bill said he goes to a different small town each year, where a Pernambuco State Baptist missionary has been shepherding a group of 30 to 50 members and meeting somewhere like a garage, covered patio or storefront. Before the mission team gets there, this young congregation has purchased a building lot and put in the foundation. Then the team arrives to construct walls, columns and beams and put on the roof. After the team departs, the congregation does the finishing work to complete the building. This way the congregation has both a financial commitment as well as some "sweat equity" in the church building.
     No special training is required for this type of work. These are "just regular guys," Bill said. "It helps if they're good with their hands and in good physical condition." While they're on site, they also hold a Vacation Bible School and set up a glasses clinic.
     As he's gotten to know people in Brazil, Bill has developed some deep and abiding friendships. Among them, he met a teenager named Danielle in 2003. Two years later, when Bill was in Brazil with his wife Phyllis, they met Danielle again.
     "When she graduated from college, she really needed to be able to speak English to get a better job. We invited her to come stay with us," he said. So Danielle came to Montgomery and spent six months studying English in an intensive course at Auburn University Montgomery.
     After Danielle returned to Brazil and began making plans to marry, Bill said, "She arranged her wedding so that it would correspond with the time we were in Brazil. The whole team went to the wedding." Not only that, she asked Bill to give her away. Her father had been a truck driver who was killed in an accident when she was young, and Bill was glad to step in and escort her down the aisle.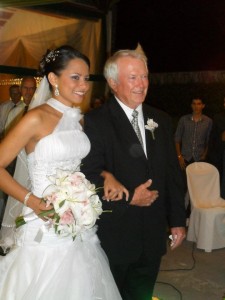 In addition to his trips to Brazil, Bill is in his tenth year of annual travels to Guatemala to dig wells. When this team goes, they're in a village for four days. It takes four men to run the rig, so they have eight guys who rotate on and off.
     "While off the rig, we're making personal contact with the kids. It's like the circus has come to town," he said. With the equipment running and all the noise, the project attracts lots of onlookers. They'll have jump rope, Frisbees. On Wednesday night, they show the Jesus film, then on Thursday they dedicate the well with a preaching service. "We give every family in the village a Bible and give all the kids a treat," he said.
     Bill grew up in Louisiana, graduated from LSU, then was drafted into the Air Force during the Vietnam years. While he was at Keesler Air Force Base training to be a communications officer, he attended a Baptist church.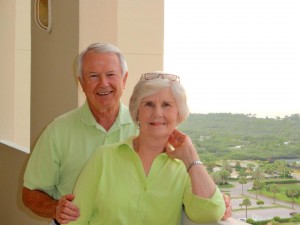 During Training Union one night, he met his future wife Phyllis. They dated in person for six weeks until Bill left for an assignment in California.
     "Our courtship was by mail – handwritten, 'put in the mailbox' mail," he said. They even got engaged through the mail. He sent the ring to her father, made a phone call and asked for her hand. Then Phyllis got on the phone, and he proposed. "I didn't see her again until I came home to walk down the aisle."
     Must have worked out OK. They'll have been married 50 years in June.
______________
"On the Sidewalk with Bill" is part of a continuing series by Minnie Lamberth called People I Met at Church. Originally posted in February 2013 at http://
minnielamberth.com
.