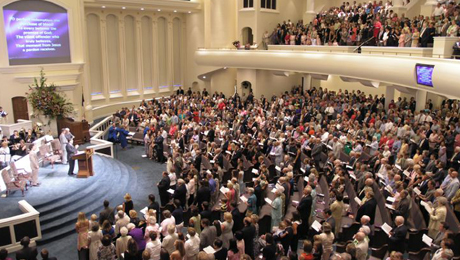 A few years ago, I wrote a series of stories called "People I've Met at Church." All the church members I interviewed for this series already knew the stories they told me. But it was fun to listen for a few minutes and then shape their stories into something I could share with friends. Some of the people I interviewed have since passed away.
Before Jane Came to this Community – The touching and inspiring story of Jane Ferguson's life before she became synonymous with community ministries in Montgomery.
Faith, Family and Baseball — Barrows Style – When it comes to building family legacies, Gil and Barbara Barrow have hit a home run.
Serving Cross Culturally with Richard – From Perry Street to Central Asia, Richard Alford shares the language of love.
At Home with Mary Ann and Gene – In sickness and in health definitely holds true here. Their love has been growing strong for 63 1/2 years.
Visiting Mayberry with Doug – Doug Rogers is the professional behind the scenes of many inspiring videos, plus he has a passion for "all things Mayberry."
In the Prayer Room with Glenda – From this small room, the concerns of church members are raised up week after week.
Sunday Lunch with Sam – For this 8 1/2 year old, everything at church is really fun.
Beyond the Magnolia Tree with John and Helen – They've lived nearly 56 years in a home many people can't see.
Cecile and All Her Children – Cecile Hamblin has made a difference in many young lives.
My Evening with Mique and Rudy – Sometimes you just want to reconnect with people you met at church.
Rocking Babies with Donnie – Donnie Sasser's ready for the rocking chair, every Sunday morning.
Praying a Song with Sharon – Some things you learn in church come back to you right when you need them. Just ask Sharon McGee.
In the Choir Loft with Sarah & Jack – In the choir for 60 years? Seriously? Yes, if you're Sarah and Jack Lee.
At the Table with Henry & Sara Jane – A ministerial team with stories to tell? Yes, and quite interesting indeed — if you're Henry and Sara Jane Lyon.
In the Ushers' Room with Burt – An usher for 40 years? That's just one part of Burt Martin's unique story.
Inside the Sanctuary with Bill & Patty – A tree's been growing in Montgomery for 32 years so far. It was planted and nurtured by Bill and Patty Roper.
In the Preschool Room with Ruthie Grace – My youngest interviewee by far — 4-year-old Ruthie Grace is a one-of-a-kind kid that you should get to know too.
In the Hallway with Miss Pat – Pat Stewart has worked in preschool ministry for 50 years.
On the Sidewalk with Bill – Whose hand did I shake before I entered the drop-off door? Bill Lambert's name is similar, but no relation.
Under the Tree with Beppy – Beppy Tiller has turned pages for the organist during 30 years of Christmas performances.